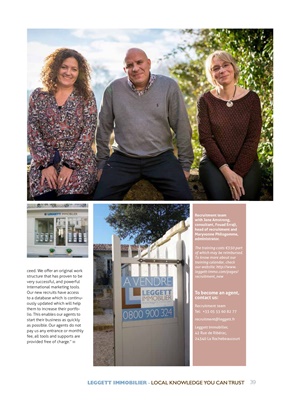 39
Recruitment team
with  Jane Amstrong,
consultant,  Fouad Erraji,
head of recruitment and
Maryvonne Philogomme,
administrator.
The training costs €350 part
of which may be reimbursed.
To know more about our
training calendar, check
our website: http://www.
leggett-immo.com/pages/
recruitment_new
To become an agent,
contact us:
Recruitment team
Tel: +33 05 53 60 82 77
Leggett Immobilier,
42 Rue de Ribérac,
24340 La Rochebeaucourt
ceed. We offer an original work
structure that has proven to be
very successful, and powerful
international marketing tools.
Our new recruits have access
to a database which is continuously updated which will help
them to increase their portfolio.
This enables our agents to
start their business as quickly
as possible. Our agents do not
pay us any entrance or monthly
fee, all tools and supports are
provided free of charge."
LEGGETT IMMOBILIER - LOCAL KNOWLEDGE YOU CAN TRUST