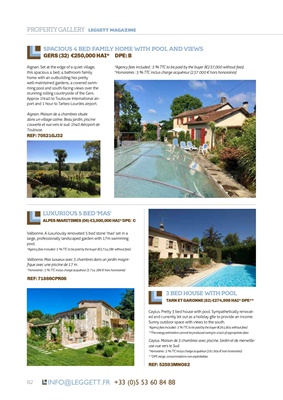 82
LUXURIOUS 5 BED 'MAS'
ALPES MARITIMES (06) €3,900,000 HAI* DPE: C
Valbonne. A luxuriously renovated 5 bed stone 'mas' set in a
large, professionally landscaped garden with 17m swimming
pool.
*Agency fees included : 5 % TTC to be paid by the buyer (€3,714,286 without fees)
Valbonne. Mas luxueux avec 5 chambres dans un jardin magnifique avec une piscine de 17 m.
*Honoraires : 5 % TTC inclus charge acquéreur (3 714 286 € hors honoraires)
REF: 71866CPR06
Aignan. Set at the edge of a quiet village,
this spacious 4 bed, 4 bathroom family
home with an outbuilding has pretty
well-maintained gardens, a covered swimming pool and south-facing
views over the
stunning rolling countryside of the Gers.
Approx 1hr40 to Toulouse International airport and 1 hour to Tarbes-Lourdes
airport.
Aignan. Maison de 4 chambres située
dans un village calme. Beau jardin, piscine
couverte et vue vers le sud. 1h40 Aéroport de
Toulouse.
SPACIOUS 4 BED FAMILY HOME WITH POOL AND VIEWS
GERS (32) €250,000 HAI* DPE: B
Caylus. Pretty 3 bed house with pool. Sympathetically renovated and currently
let out as a holiday gÎte to provide an income.
Sunny outdoor space with views to the south.
*Agency fees included : 5 % TTC to be paid by the buyer (€261,904 without fees)
**The energy estimation cannot be produced owing to a lack of appropriate data
Caylus. Maison de 3 chambres avec piscine. Jardin et de merveilleuse vue vers le Sud.
*Honoraires : 5 % TTC inclus charge acquéreur (261 904 € hors honoraires)
* *DPE vierge, consommations non exploitables
3 BED HOUSE WITH POOL
TARN ET GARONNE (82) €274,999 HAI* DPE**
REF: 52593MNO82
PROPERTY GALLERY LEGGETT MAGAZINE
info@leggett.fr +33 (0)5 53 60 84 88
REF: 70521GJ32
*Agency fees included : 5 % TTC to be paid by the buyer (€237,000 without fees)
*Honoraires : 5 % TTC inclus charge acquéreur (237 000 € hors honoraires)