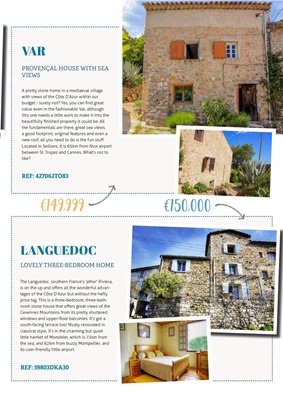 The Languedoc, southern France's 'other' Riviera,
is on the up and offers all the wonderful advantages
of the CÔte D'Azur but without the hefty
price tag. This is a three-bedroom, three-bathroom
stone house that offers great views of the
Cevennes Mountains from its pretty shuttered
windows and upper-floor balconies. It's got a
south-facing terrace too! Nicely renovated in
classical style, it's in the charming but quiet
little hamlet of Monoblet, which is 72km from
the sea, and 62km from buzzy Montpellier, and
its user-friendly little airport.
LANGUEDOC
LOVELY THREE-BEDROOM HOME
€150,000
A pretty stone home in a mediaeval village
with views of the CÔte D'Azur within our
budget - surely not? Yes, you can find great
value even in the fashionable Var, although
this one needs a little work to make it into the
beautifully finished property it could be. All
the fundamentals are there, great sea views,
a good footprint, original features and even a
new roof, all you need to do is the fun stuff.
Located in Seillans, it is 65km from Nice airport
between St. Tropez and Cannes. What's not to
like?
PROVENÇAL HOUSE WITH SEA
VIEWS
VA R
€149,999
REF: 42706JTO83 Y
REF: 59803DKA30
Y