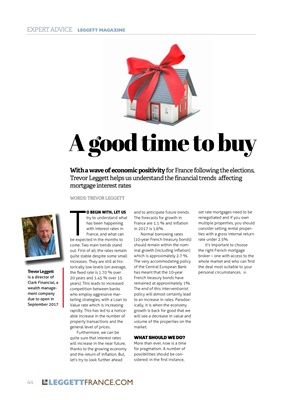 Trevor Leggett
is a director of
Clark Financial, a
wealth management company
due to open in
September 2017
44 LEGGETTFRANCE.COM
EXPERT ADVICE LEGGETT MAGAZINE
T
O BEGIN WITH, LET US
try to understand what
has been happening
with interest rates in
France, and what can
be expected in the months to
come. Two main trends stand
out. First of all, the rates remain
quite stable despite some small
increases. They are still at historically low
levels (on average,
the fixed rate is 1.70 % over
20 years and 1.45 % over 15
years). This leads to increased
competition between banks
who employ aggressive marketing
strategies, with a Loan to
Value rate which is increasing
rapidly. This has led to a noticeable increase
in the number of
property transactions and the
general level of prices.
Furthermore, we can be
quite sure that interest rates
will increase in the near future,
thanks to the growing economy
and the return of inflation. But,
let's try to look further ahead
With a wave of economic positivity for France following the elections,
Trevor Leggett helps us understand the financial trends affecting
mortgage interest rates
A good time to buy
and to anticipate future trends.
The forecasts for growth in
France are 1.1 % and inflation
in 2017 is 1.6%.
Normal borrowing rates
(10-year French treasury bonds)
should remain within the nominal growth
(including inflation)
which is approximately 2.7 %.
The very accommodating policy
of the Central European Bank
has meant that the 10-year
French treasury bonds have
remained at approximately 1%.
The end of this interventionist
policy will almost certainly lead
to an increase in rates. Paradoxically,
it is when the economy
growth is back for good that we
will see a decrease in value and
volume of the properties on the
market.
WHAT SHOULD WE DO?
More than ever, now is a time
for pragmatism. A number of
possibilities should be considered:
in the first instance,
WORDS: TREVOR LEGGETT
set rate mortgages need to be
renegotiated and if you own
multiple properties, you should
consider selling rental properties with a
gross internal return
rate under 2.5%.
It's important to choose
the right French mortgage
broker - one with access to the
whole market and who can find
the deal most suitable to your
personal circumstances.