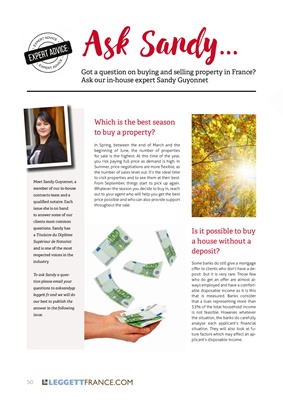 Ask Sandy...Got a question on buying and selling property in France?
Ask our in-house expert Sandy Guyonnet
In Spring, between the end of March and the
beginning of June, the number of properties
for sale is the highest. At this time of the year,
you risk paying full price as demand is high. In
Summer, price negotiations are more flexible, as
the number of sales level out. It's the ideal time
to visit properties and to see them at their best.
From September, things start to pick up again.
Whatever the season you decide to buy in, reach
out to your agent who will help you get the best
price possible and who can also provide support
throughout the sale.
Which is the best season
to buy a property?
Some banks do still give a mortgage
offer to clients who don't have a deposit
but it is very rare. Those few
who do get an offer are almost always employed
and have a comfortable disposable
income as it is this
that is measured. Banks consider
that a loan representing more than
33% of the total household income
is not feasible. However, whatever
the situation, the banks do carefully
analyse each applicant's financial
situation. They will also look at future
factors which may affect an applicant's disposable income.
Is it possible to buy
a house without a
deposit?
Meet Sandy Guyonnet, a
member of our in-house
contracts team and a
qualified notaire. Each
issue she is on hand
to answer some of our
clients most common
questions. Sandy has
a Titulaire du Diplôme
Supérieur de Notariat
and is one of the most
respected voices in the
industry.
To ask Sandy a question please email your
questions to asksandy@
leggett.fr and we will do
our best to publish the
answer in the following
issue.
50 LEGGETTFRANCE.COM