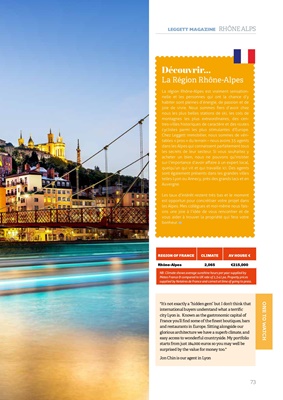 7373
NB : Climate shows average sunshine hours per year supplied by
Meteo France & compared to UK rate of 1,341 pa. Property prices
supplied by Notaires de France and correct at time of going to press.
REGION OF FRANCE
CLIMATE
AV HOUSE €
Rhône-Alpes 2,065 €215,000 ONE TO WATCH
"It's not exactly a "hidden gem" but I don't think that
international buyers understand what a terrific
city Lyon is.  Known as the gastronomic capital of
France you'll find some of the finest boutiques, bars
and restaurants in Europe. Sitting alongside our
glorious architecture we have a superb climate, and
easy access to wonderful countryside. My portfolio
starts from just 184,000 euros so you may well be
surprised by the value for money too."
Jon Chin is our agent in Lyon
Découvrir...
La Région Rhône-Alpes
La région Rhône-Alpes est vraiment sensationnelle et
les personnes qui ont la chance d'y
habiter sont pleines d'énergie, de passion et de
joie de vivre. Nous sommes fiers d'avoir chez
nous les plus belles stations de ski, les cols de
montagnes les plus extraordinaires, des centres-villes
historiques de caractère et des routes
cyclistes parmi les plus stimulantes d'Europe.
Chez Leggett immobilier, nous sommes de véritables «
pros  » du terrain - nous avons 35 agents
dans les Alpes qui connaissent parfaitement tous
les secrets de leur secteur. Si vous souhaitez y
acheter un bien, nous ne pouvons qu'insister
sur l'importance d'avoir affaire à un expert local,
quelqu'un qui vit et qui travaille ici. Des agents
sont également présents dans les grandes villes
telles Lyon ou Annecy, près des grands lacs et en
Auvergne.
Les taux d'intérêt restent très bas et le moment
est opportun pour concrétiser votre projet dans
les Alpes. Mes collègues et moi-même nous faisons une
joie à l'idée de vous rencontrer et de
vous aider à trouver la propriété qui fera votre
bonheur.
LEGGETT MAGAZINE RHÔNE ALPS