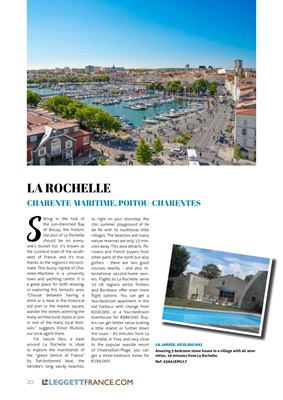 20 LEGGETTFRANCE.COM
LEGGETTFRANCE.COM
20
LA JARRIE, €639,600 HAI
Amazing 5 bedroom stone house in a village with all amenities, 10 minutes from
La Rochelle.
Ref: 63661EMU17
S  itting in the hub of
the sun-drenched Bay
of Biscay, the historic
old port of La Rochelle
should be on everyone's
bucket list. It's known as
the sunniest town of the southwest
of France, and it's true,
thanks to the regions's microclimate.
This buzzy capital of Charente-Maritime
is a university
town and yachting centre. It is
a great place for both relaxing,
or exploring this fantastic area.
"Choose between having a
drink or a meal in the historical
old port or the market square,
wander the streets admiring the
many architectural styles or join
in one of the many local festivals," suggests
Elinor Murless,
our local agent there.
For nature fans, a base
around La Rochelle is ideal
to explore the marshlands of
the "green Venice of France"
by flat-bottomed boat, the
Vendée's long sandy beaches,
or, right on your doorstep, the
chic summer playground of Ile
de Ré with its traditional little
villages. The beaches and many
nature reserves are only 15 minutes away.
This area attracts Parisians and
French buyers from
other parts of the north but also
golfers - there are two good
courses nearby - and also international second-home
owners.
Flights to La Rochelle serve
10 UK regions whilst Poitiers
and Bordeaux offer even more
flight options. You can get a
two-bedroom apartment in the
old harbour with change from
€200,000, or a four-bedroom
townhouse for €689,000. Buyers
can get better value looking
a little inland, or further down
the coast - 20 minutes from La
Rochelle, in Yves, and very close
to the popular seaside resort
of Chatelaillon-Plage, you can
get a three-bedroom home for
€189,000!
LA ROCHELLE
CHARENTE-MARITIME, POITOU-CHARENTES
LEGGETTFRANCE.COM