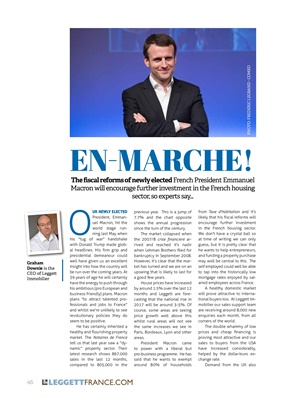 The fiscal reforms of newly elected French President Emmanuel
Macron will encourage further investment in the French housing
sector, so experts say...
previous year. This is a jump of
7.7% and the chart opposite
shows the annual progression
since the turn of the century.
The market collapsed when
the 2007/8 crise financiere arrived
and reached it's nadir
when Lehman Brothers filed for
bankruptcy in September 2008.
However, it's clear that the market
has turned and we are on an
upswing that is likely to last for
a good few years.
House prices have increased
by around 1.5% over the last 12
months and Leggett are forecasting that
the national rise in
2017 will be around 3-5%. Of
course, some areas are seeing
price growth well above this
whilst rural areas will not see
the same increases we see in
Paris, Bordeaux, Lyon and other
areas.
President Macron came
to power with a liberal but
pro-business programme. He has
said that he wants to exempt
around 80% of households
from Taxe d'Habitation and it's
likely that his fiscal reforms will
encourage further investment
in the French housing sector.
We don't have a crystal ball so
at time of writing we can only
guess, but it is pretty clear that
he wants to help entrepreneurs,
and funding a property purchase
may well be central to this. The
self employed could well be able
to tap into the historically low
mortgage rates enjoyed by salaried employees
across France.
A healthy domestic market
will prove attractive to international buyers
too. At Leggett Immobilier our
sales support team
are receiving around 8,000 new
enquiries each month, from all
corners of the world.
The double whammy of low
prices and cheap financing is
proving most attractive and our
sales to buyers from the USA
have increased considerably,
helped by the dollar/euro exchange
rate.
Demand from the UK also
O
UR NEWLY ELECTED
President, Emmanuel Macron,
hit the
world stage running last
May when
his "tug of war" handshake
with Donald Trump made global headlines.
His firm grip and
presidential demeanour could
well have given us an excellent
insight into how the country will
be run over the coming years. At
39 years of age he will certainly
have the energy to push through
his ambitious (pro European and
business friendly) plans. Macron
plans "to attract talented professionals
and jobs to France"
and whilst we're unlikely to see
revolutionary policies they do
seem to be positive.
He has certainly inherited a
healthy and flourishing property
market. The Notaires de France
tell us that last year saw a "dynamic" property
sector. Their
latest research shows 867,000
sales in the last 12 months,
compared to 805,000 in the
PHOTO: FREDERIC LEGRAND - COMEO
46 LEGGETTFRANCE.COM
EN-MARCHE!
Graham
Downie is the
CEO of Leggett
Immobilier