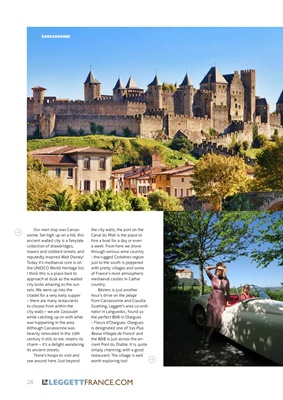 Our next stop was Carcassonne.
Set high up on a hill, this
ancient walled city is a fairytale
collection of drawbridges,
towers and cobbled streets, and
reputedly inspired Walt Disney!
Today it's mediaeval core is on
the UNESCO World Heritage list.
I think this is a place best to
approach at dusk as the walled
city looks amazing as the sun
sets. We went up into the
citadel for a very early supper
- there are many restaurants
to choose from within the
city walls - we ate Cassoulet
while catching up on with what
was happening in the area.
Although Carcassonne was
heavily renovated in the 19th
century it still, to me, retains its
charm - it's a delight wandering
its ancient streets.
There's heaps to visit and
see around here. Just beyond
the city walls, the port on the
Canal du Midi is the place to
hire a boat for a day or even
a week. From here we drove
through serious wine country
- the rugged Corbières region
just to the south is peppered
with pretty villages and some
of France's most atmospheric
mediaeval castles in Cathar
country.
Béziers is just another
hour's drive on the péage
from Carcassonne and Claudia
Goetting, Leggett's area co-ordinator in Languedoc, found
us
the perfect B&B in Olargues
- Fleurs d'Olargues. Olargues
is designated one of 'Les Plus
Beaux Villages de France' and
the B&B is just across the ancient Pont
du Diable. It is, quite
simply charming, with a good
restaurant. The village is well
worth exploring too!
28 LEGGETTFRANCE.COM
CARCASSONNE