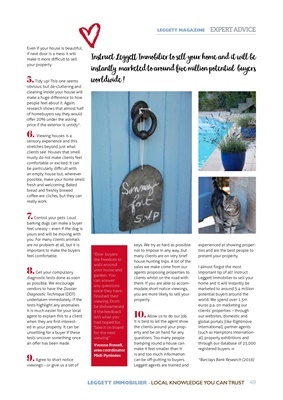 49
"Give buyers
the freedom to
walk around
your home and
garden. You
can answer
any questions
once they have
finished their
viewing. Don't
be disheartened
if the feedback
isn't what you
had hoped for.
Take it on board
for the next
viewing."
Yvonne Russell,
area coordinator
Midi-Pyrénées
Even if your house is beautiful,
if next door is a mess it will
make it more difficult to sell
your property.
5. Tidy up! This one seems
obvious, but de-cluttering and
cleaning inside your house will
make a huge difference to how
people feel about it. Again,
research shows that almost half
of homebuyers say they would
offer 20% under the asking
price if the exterior is untidy*.
6. Viewing houses is a
sensory experience and this
stretches beyond just what
clients see. Houses that smell
musty do not make clients feel
comfortable or excited. It can
be particularly difficult with
an empty house but, wherever
possible, make your home smell
fresh and welcoming. Baked
bread and freshly brewed
coffee are cliches, but they can
really work.
7. Control your pets. Loud
barking dogs can make a buyer
feel uneasy - even if the dog is
yours and will be moving with
you. For many clients animals
are no problem at all, but it is
important to make the buyers
feel comfortable.
8. Get your compulsory
diagnostic tests done as soon
as possible. We encourage
vendors to have the Dossier
Diagnostic Technique (DDT)
undertaken immediately. If the
tests highlight any anomalies
it is much easier for your local
agent to explain this to a client
when they are first interested in your
property. It can be
unsettling for a buyer if these
tests uncover something once
an offer has been made.
9. Agree to short notice
viewings - or give us a set of
keys. We try as hard as possible
not to impose in any way, but
many clients are on very brief
house hunting trips. A lot of the
sales we make come from our
agents proposing properties to
clients whilst on the road with
them. If you are able to accommodate short notice
viewings,
you are more likely to sell your
property.
10. Allow us to do our job.
It is best to let the agent show
the clients around your property and be on hand for
any
questions. Too many people
tramping round a house can
make it feel smaller than it
is and too much information
can be off-putting to buyers.
Leggett agents are trained and
experienced at showing properties and are
the best people to
present your property.
I almost forgot the most
important tip of all! Instruct
Leggett Immobilier to sell your
home and it will instantly be
marketed to around 5.4 million
potential buyers around the
world. We spend over 1.5m
euros p.a. on marketing our
clients' properties - through
our websites, domestic and
global portals (like Rightmove
International), partner agents
(such as Hamptons International), property
exhibitions and
through our database of 25,000
registered buyers.
*Barclays Bank Research (2016)
Instruct Leggett Immobilier to sell your home and it will be
instantly marketed to around five million potential buyers
worldwide !
u
LEGGETT IMMOBILIER - LOCAL KNOWLEDGE YOU CAN TRUST
LEGGETT MAGAZINE EXPERT ADVICE