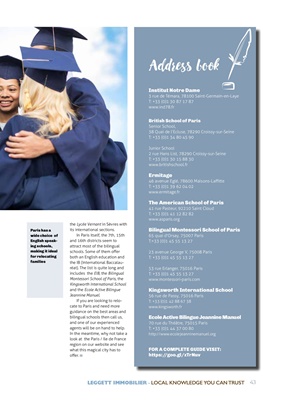 the Lycée Vernant in Sèvres with
its international sections.
In Paris itself, the 7th, 15th
and 16th districts seem to
attract most of the bilingual
schools. Some of them offer
both an English education and
the IB (International Baccalauréat).
The list is quite long and
includes the EIB, the Bilingual
Montessori School of Paris, the
Kingsworth International School
and the Ecole Active Bilingue
Jeannine Manuel.
If you are looking to relocate to Paris
and need more
guidance on the best areas and
bilingual schools then call us,
and one of our experienced
agents will be on hand to help.
In the meantime, why not take a
look at the Paris / Ile de France
region on our website and see
what this magical city has to
offer.
LEGGETT IMMOBILIER - LOCAL KNOWLEDGE YOU CAN TRUST
Institut Notre Dame
3 rue de Témara, 78100 Saint-Germain-en-Laye
T: +33 (0)1 30 87 17 87
British School of Paris
Senior School,
38 Quai de l'Ecluse, 78290 Croissy-sur-Seine
T: +33 (0)1 34 80 45 90
Junior School
2 rue Hans List, 78290 Croissy-sur-Seine
T: +33 (0)1 30 15 88 30
Ermitage
46 avenue Eglé, 78600 Maisons-Laffitte
T: +33 (0)1 39 62 04 02
The American School of Paris
41 rue Pasteur, 92210 Saint Cloud
T: +33 (0)1 41 12 82 82
Bilingual Montessori School of Paris
65 quai d'Orsay, 75007 Paris
T:+33 (0)1 45 55 13 27
23 avenue George V, 75008 Paris
T: +33 (0)1 45 55 13 27
53 rue Erlanger, 75016 Paris
T: +33 (0)1 45 55 13 27
Kingsworth International School
56 rue de Passy, 75016 Paris
T: +33 (0)1 42 88 67 38
Ecole Active Bilingue Jeannine Manuel
70 rue du Théâtre, 75015 Paris
T: +33 (0)1 44 37 00 80
http://www.ecolejeanninemanuel.org
Address book
43
FOR A COMPLETE GUIDE VISIT:
Paris has a
wide choice of
English speaking schools,
making it ideal
for relocating
families