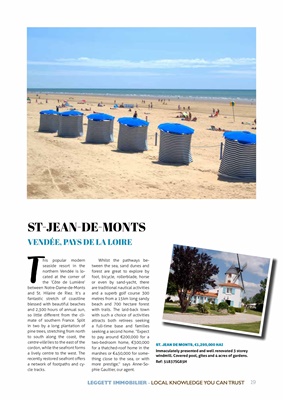 19
T  his popular modern
seaside resort in the
northern Vendée is located at
the corner of
the 'Côte de Lumière'
between Notre-Dame-de-Monts
and St. Hilaire de Riez. It's a
fantastic stretch of coastline
blessed with beautiful beaches
and 2,300 hours of annual sun,
so little different from the climate of
southern France. Split
in two by a long plantation of
pine  trees, stretching from north
to south along the coast, the
centre-ville  lies to the east of the
cordon, while the seafront forms
a lively centre to the west. The
recently restored seafront offers
a network of footpaths and cycle tracks.
ST-JEAN-DE-MONTS
VENDÉE, PAYS DE LA LOIRE
Whilst the pathways between
the sea, sand dunes and
forest are great to explore by
foot, bicycle, rollerblade, horse
or even by sand-yacht, there
are traditional nautical activities
and a superb golf course 300
metres from a 15km long sandy
beach and 700 hectare forest
with trails. The laid-back town
with such a choice of activities
attracts both retirees seeking
a full-time base and families
seeking a second home. "Expect
to pay around €200,000 for a
two-bedroom home, €300,000
for a thatched-roof home in the
marshes or €450,000 for something close
to the sea, or with
more prestige," says Anne-Sophie Gaultier,
our agent.
ST. JEAN DE MONTS, €1,295,000 HAI
Immaculately presented and well renovated 3 storey
windmill. Covered pool, gÎtes and 4 acres of gardens.
Ref: 51837SG85H
LEGGETT IMMOBILIER - LOCAL KNOWLEDGE YOU CAN TRUST 19