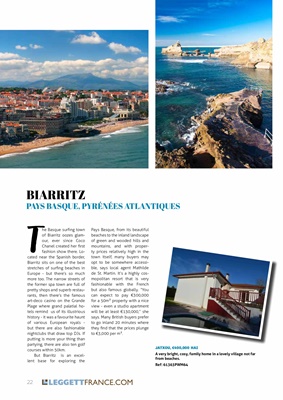 T
he Basque surfing town
of Biarritz oozes glamour,
ever since Coco
Chanel created her first
fashion show there. Located near
the Spanish border,
Biarritz sits on one of the best
stretches of surfing beaches in
Europe - but there's so much
more too. The narrow streets of
the former spa town are full of
pretty shops and superb restaurants,
then there's the famous
art-deco casino on the Grande
Plage where grand palatial hotels remind
us of its illustrious
history - it was a favourite haunt
of various European royals -
but there are also fashionable
nightclubs that draw top DJs. If
putting is more your thing than
partying, there are also ten golf
courses within 50km.
But Biarritz  is an excellent base
for exploring the
BIARRITZ
PAYS BASQUE, PYRÉNÉES ATLANTIQUES
Pays Basque, from its beautiful
beaches to the inland landscape
of green and wooded hills and
mountains, and with property prices
relatively high in the
town itself, many buyers may
opt to be somewhere accessible,
says local agent Mathilde
de St. Martin. It's a highly cosmopolitan resort
that is very
fashionable with the French
but also famous globally. "You
can expect to pay €300,000
for a 50m2 property with a nice
view - even a studio apartment
will be at least €130,000," she
says. Many British buyers prefer
to go inland 20 minutes where
they find that the prices plunge
to €3,000 per m2.
JATXOU, €400,000 HAI
A very bright, cosy, family home in a lovely village not far
from beaches.
Ref: 61363PWM64
LEGGETTFRANCE.COM
22