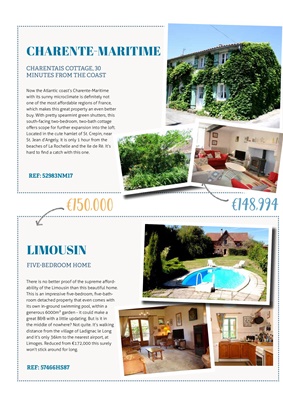 There is no better proof of the supreme affordability of
the Limousin than this beautiful home.
This is an impressive five-bedroom, five-bathroom
detached property that even comes with
its own in-ground swimming pool, within a
generous 6000m2 garden - it could make a
great B&B with a little updating. But is it in
the middle of nowhere? Not quite. It's walking
distance from the village of Ladignac le Long
and it's only 36km to the nearest airport, at
Limoges. Reduced from €172,000 this surely
won't stick around for long.
LIMOUSIN
Now the Atlantic coast's Charente-Maritime
with its sunny microclimate is definitely not
one of the most affordable regions of France,
which makes this great property an even better
buy. With pretty spearmint green shutters, this
south-facing two-bedroom, two-bath cottage
offers scope for further expansion into the loft.
Located in the cute hamlet of St. Crepin, near
St. Jean d'Angely, it is only 1 hour from the
beaches of La Rochelle and the Ile de Rè. It's
hard to find a catch with this one.
FIVE-BEDROOM HOME
CHARENTAIS COTTAGE, 30
MINUTES FROM THE COAST
CHARENTE-MARITIME
€150,000 €148,994
REF: 52983NM17
Y
REF: 57466HS87
Y