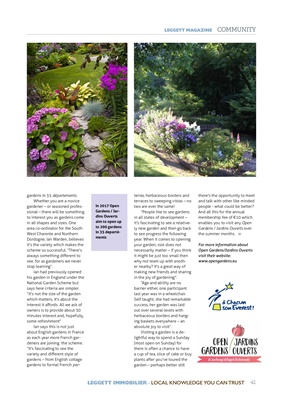 gardens in 35 départements.
Whether you are a novice
gardener - or seasoned professional - there
will be something
to interest you as gardens come
in all shapes and sizes. One
area co-ordinator for the South
West Charente and Northern
Dordogne, Ian Warden, believes
it's the variety which makes the
scheme so successful. "There's
always something different to
see, for as gardeners we never
stop learning".
Ian had previously opened
his garden in England under the
National Garden Scheme but
says here criteria are simpler.
"It's not the size of the garden
which matters, it's about the
interest it affords. All we ask of
owners is to provide about 30
minutes interest and, hopefully,
some refreshment"
Ian says this is not just
about English gardens in France
as each year more French gardeners
are joining the scheme.
"It's fascinating to see the
variety and different style of
gardens - from English cottage
gardens to formal French parterres,
herbaceous borders and
terraces to sweeping vistas - no
two are ever the same!
"People like to see gardens
in all states of development -
it's fascinating to see a relatively new
garden and then go back
to see progress the following
year. When it comes to opening
your garden, size does not
necessarily matter - if you think
it might be just too small then
why not team up with another nearby?
It's a great way of
making new friends and sharing
in the joy of gardening".
"Age and ability are no
barrier either, one participant
last year was in a wheelchair.
Self taught, she had remarkable
success, her garden was laid
out over several levels with
herbaceous borders and hanging baskets
everywhere - an
absolute joy to visit".
Visiting a garden is a delightful way to spend a Sunday
(most open on Sunday) for
there is often a chance to have
a cup of tea, slice of cake or buy
plants after you've toured the
garden - perhaps better still
there's the opportunity to meet
and talk with other like minded
people - what could be better?
And all this for the annual
membership fee of €10 which
enables you to visit any Open
Gardens / Jardins Ouverts over
the summer months.
For more information about
Open Gardens/Jardins Ouverts
visit their website:
41
LEGGETT IMMOBILIER - LOCAL KNOWLEDGE YOU CAN TRUST 4141
LEGGETT MAGAZINE COMMUNITY
In 2017 Open
Gardens / Jardins Ouverts
aim to open up
to 200 gardens
in 35 departéments