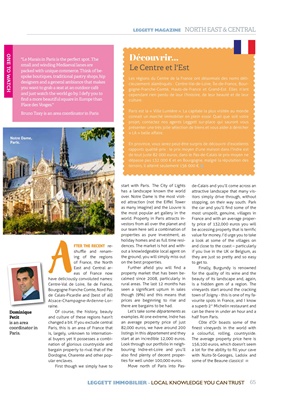 65
LEGGETT MAGAZINE NORTH EAST & CENTRAL
LEGGETT IMMOBILIER - LOCAL KNOWLEDGE YOU CAN TRUST
start with Paris.  The City of Lights
has a landscape known the world
over. Notre Dame is the most visited attraction
(not the Eiffel Tower
as many imagine) and the Louvre is
the most popular art gallery in the
world. Property in Paris attracts investors
from all over the planet and
our team here sell a combination of
properties as pure investment, as
holiday homes and as full time residences.
The market is hot and without a
knowledgeable local agent on
the ground, you will simply miss out
on the best properties.
Further afield you will find a
property market that has been becalmed since
2008, particularly in
rural areas.  The last 12 months has
seen a significant upturn in sales
though (9%) and this means that
prices are beginning to rise and
there are bargains to be had.
Let's take some départements as
examples.  At one extreme, Indre has
an average property price of just
82,000 euros, we have around 200
listings in this département and they
start at an incredible 12,000 euros.
Look through our portfolio in neighbouring Indre-et-Loire
and you'll
also find plenty of decent properties for
well under 100,000 euros.
Move north of Paris into PasA
FTER THE RECENT reshuffle and
renaming of
the regions
of France, the North
East and Central areas of
France now
have deliciously convoluted names:
Centre-Val de Loire, Ile de France,
Bourgogne Franche Comte, Nord Pas
de Calais-Picardie and (best of all)
Alsace-Champagne-Ardenne-Lorraine.
Of course, the history, beauty
and culture of these regions hasn't
changed a bit.  If you exclude central
Paris, this is an area of France that
is, largely, unknown to international buyers
yet it possesses a combination of
glorious countryside and
bargain property to rival that of the
Dordogne, Charente and other popular enclaves.
First though we simply have to
Notre Dame,
Paris. "Le Marais in Paris is the perfect spot. The
small and winding Mediaeval lanes are
packed with unique commerce. Think of bespoke
boutiques, traditional pastry shops, hip
designers and a general ambiance that makes
you want to grab a seat at an outdoor café
and just watch the world go by. I defy you to
find a more beautiful square in Europe than
Place des Vosges."
Bruno Taxy is an area coordinator in Paris
ONE TO WATCH
de-Calais and you'll come across an
attractive landscape that many visitors
simply drive through, without
stopping, on their way south.  Park
the car and you'll find some of the
most unspoilt, genuine, villages in
France and with an average property price
of 132,000 euros you will
be accessing property that is terrific
value for money. I'd urge you to take
a look at some of the villages on
and close to the coast - particularly
if you live in the UK or Belgium, as
they are just so pretty and so easy
to get to.
Finally, Burgundy is renowned
for the quality of its wine and the
beauty of its landscape and, again,
is a hidden gem of a region. The
vineyards start around the cracking
town of Joigny - this is one of my favourite
spots in France, and I know
a superb 2* Michelin restaurant and
can be there in under an hour and a
half from Paris.
CÔte d'Or boasts some of the
finest vineyards in the world with
a colourful, rolling, countryside.
The average property price here is
156,100 euros, which doesn't seem
a lot for the ability to fill your cave
with Nuits-St-Georges, Ladoix and
some of the Beaune classics!
Dominique
Petit
is an area
coordinator in
Paris.
Les régions du Centre de la France ont désormais des noms délicieusement alambiqués
: Centre-Val-de-Loire, Île-de-France, Bourgogne-Franche-Comté,
Hauts-de-France et Grand-Est. Elles n'ont
cependant rien perdu de leur l'histoire, de leur beauté et de leur
culture.
Paris est la « Ville Lumière ». La capitale la plus visitée au monde
connait un marché immobilier en plein essor. Quel que soit votre
projet, contactez nos agents Leggett sur-place qui sauront vous
présenter une très jolie sélection de biens et vous aider à dénicher
« LA » belle affaire.
En province, vous serez peut-être surpris de découvrir d'excellents
rapports qualité-prix : le prix moyen d'une maison dans l'Indre est
de tout juste 82 000 euros, dans le Pas-de-Calais le prix moyen ne
dépasse pas 132 000 € et en Bourgogne, malgré la réputation des
terroirs, il atteint seulement 156 000 €.
Découvrir...
Le Centre et l'Est