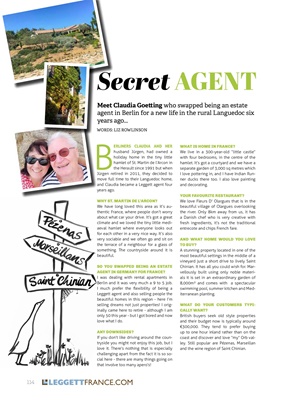 Meet Claudia Goetting who swapped being an estate
agent in Berlin for a new life in the rural Languedoc six
years ago...
114 LEGGETTFRANCE.COM
WORDS: LIZ ROWLINSON
B
ERLINERS CLAUDIA AND HER
husband Jürgen, had owned a
holiday home in the tiny little
hamlet of St. Martin de l'Arcon in
the Herault since 1991 but when
Jürgen retired in 2011, they decided to
move full time to their Languedoc home,
and Claudia became a Leggett agent four
years ago.
WHY ST. MARTIN DE L'ARCON?
We have long loved this area as it's authentic France,
where people don't worry
about what car your drive. It's got a great
climate and we loved the tiny little mediaeval
hamlet where everyone looks out
for each other in a very nice way. It's also
very sociable and we often go and sit on
the terrace of a neighbour for a glass of
something. The countryside around it is
beautiful.
SO YOU SWAPPED BEING AN ESTATE
AGENT IN GERMANY FOR FRANCE?
I was dealing with rental apartments in
Berlin and it was very much a 9 to 5 job.
I much prefer the flexibility of being a
Leggett agent and also selling people the
beautiful homes in this region - here I'm
selling dreams not just properties! I originally came
here to retire - although I am
only 50 this year - but I got bored and now
love what I do.
ANY DOWNSIDES?
If you don't like driving around the countryside you
might not enjoy this job, but I
love it. There's nothing that is especially
challenging apart from the fact it is so social here
- there are many things going on
that involve too many apero's!
WHAT IS HOME IN FRANCE?
We live in a 300-year-old "little castle"
with four bedrooms, in the centre of the
hamlet. It's got a courtyard and we have a
separate garden of 3,000 sq metres which
I love pottering in, and I have Indian Runner ducks
there too. I also love painting
and decorating.
YOUR FAVOURITE RESTAURANT?
We love Fleurs D' Olargues that is in the
beautiful village of Olargues overlooking
the river. Only 8km away from us, it has
a Danish chef who is very creative with
fresh ingredients, it's not the traditional
entrecote and chips French fare.
AND WHAT HOME WOULD YOU LOVE
TO BUY?
A stunning property located in one of the
most beautiful settings in the middle of a
vineyard just a short drive to lively Saint
Chinian. It has all you could wish for. Marvellously
built using only noble materials it
is set in an extraordinary garden of
8,000m² and comes with a spectacular
swimming pool, summer kitchen and Mediterranean
planting.
WHAT DO YOUR CUSTOMERS TYPICALLY
WANT?
British buyers seek old style properties
and their budget now is typically around
€300,000. They tend to prefer buying
up to one hour inland rather than on the
coast and discover and love "my" Orb valley.
Still popular are Pézenas, Marseillan
and the wine region of Saint Chinian.
Secret AGENT