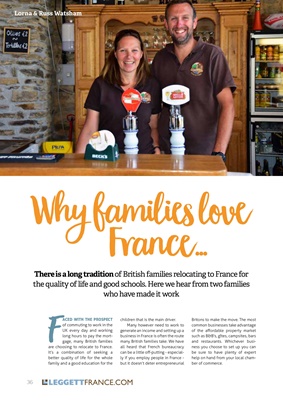 Why families love
France...There is a long tradition of British families relocating to France for
the quality of life and good schools. Here we hear from two families
who have made it work
Britons to make the move. The most
common businesses take advantage
of the affordable property market
such as B&B's, gîtes, campsites, bars
and restaurants. Whichever business
you choose to set up you can
be sure to have plenty of expert
help on hand from your local chamber of
commerce.
F
ACED WITH THE PROSPECT
of commuting to work in the
UK every day and working
long hours to pay the mortgage,
many British families
are choosing to relocate to France.
It's a combination of seeking a
better quality of life for the whole
family and a good education for the
children that is the main driver.
Many however need to work to
generate an income and setting up a
business in France is often the route
many British families take. We have
all heard that French bureaucracy
can be a little off-putting - especially if
you employ people in France -
but it doesn't deter entrepreneurial
Lorna & Russ Watsham
36 LEGGETTFRANCE.COM