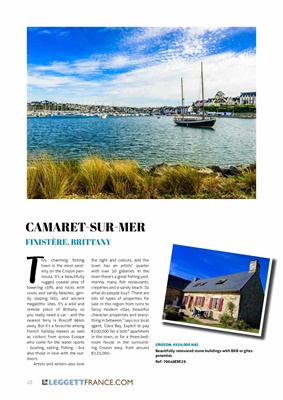 18 LEGGETTFRANCE.COM
LEGGETTFRANCE.COM
18
CROZON, €424,000 HAI
Beautifully renovated stone buildings with B&B or gîtes
potential.
Ref: 70049EBE29
T
his charming fishing
town is the most westerly on
the Crozon peninsula. It's
a beautifully
rugged coastal area of
towering cliffs and rocks with
coves and sandy beaches, gently sloping
hills, and ancient
megalithic sites. It's a wild and
remote piece of Brittany so
you really need a car - and the
nearest ferry is Roscoff 96km
away. But it's a favourite among
French holiday makers as well
as visitors from across Europe
who come for the water sports
- boating, sailing, fishing - but
also those in love with the outdoors.
Artists and writers also love
CAMARET-SUR-MER
FINISTÈRE, BRITTANY
the light and colours, and the
town has an artists' quarter
with over 20 galleries. In the
town there's a great fishing port,
marina, many fish restaurants,
crepéries and a sandy beach. So
what do people buy? "There are
lots of types of properties for
sale in this region from ruins to
fancy modern villas, beautiful
character properties and everything in
between," says our local
agent, Clara Bay. Expect to pay
€100,000 for a 50m2 apartment
in the town, or for a three-bedroom
house in the surrounding Crozon
area, from around
€125,000.
LEGGETTFRANCE.COM