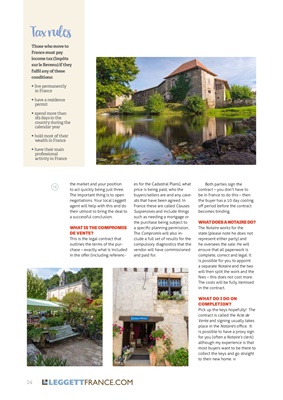 14 LEGGETTFRANCE.COM
Those who move to
France must pay
income tax (Impôts
sur le Revenu) if they
fulfil any of these
conditions:
• live permanently
in France
• have a residence
permit
• spend more than
183 days in the
country during the
calendar year
• hold most of their
wealth in France
• have their main
professional
activity in France
Tax rules
the market and your position
to act quickly being just three.
The important thing is to open
negotiations. Your local Leggett
agent will help with this and do
their utmost to bring the deal to
a successful conclusion.
WHAT IS THE COMPROMIS
DE VENTE?
This is the legal contract that
outlines the terms of the purchase -
exactly what is included
in the offer (including references for
the Cadastral Plans), what
price is being paid, who the
buyers/sellers are and any caveats that
have been agreed. In
France these are called Clauses
Suspensives and include things
such as needing a mortgage or
the purchase being subject to
a specific planning permission.
The Compromis will also include a full set of
results for the
compulsory diagnostics that the
vendor will have commissioned
and paid for.
Both parties sign the
contract - you don't have to
be in France to do this - then
the buyer has a 10 day cooling
off period before the contract
becomes binding.
WHAT DOES A NOTAIRE DO?
The Notaire works for the
state (please note he does not
represent either party) and
he oversees the sale. He will
ensure that all paperwork is
complete, correct and legal. It
is possible for you to appoint
a separate Notaire and the two
will then split the work and the
fees - this does not cost more.
The costs will be fully itemised
in the contract.
WHAT DO I DO ON
COMPLETION?
Pick up the keys hopefully! The
contract is called the Acte de
Vente and signing usually takes
place in the Notaire's office. It
is possible to have a proxy sign
for you (often a Notaire's clerk)
although my experience is that
most buyers want to be there to
collect the keys and go straight
to their new home.