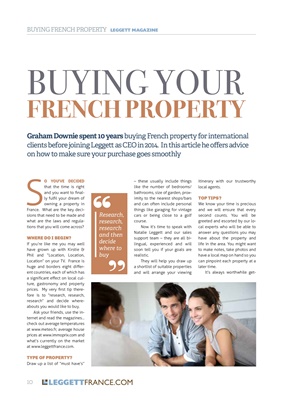 Research,
research,
research
and then
decide
where to
buy
10 LEGGETTFRANCE.COM
Graham Downie spent 10 years buying French property for international
clients before joining Leggett as CEO in 2014. In this article he offers advice
on how to make sure your purchase goes smoothly
- these usually include things
like the number of bedrooms/
bathrooms, size of garden, proximity to the nearest
shops/bars
and can often include personal
things like garaging for vintage
cars or being close to a golf
course.
Now it's time to speak with
Natalie Leggett and our sales
support team - they are all bilingual, experienced
and will
soon tell you if your goals are
realistic.
They will help you draw up
a shortlist of suitable properties
and will arrange your viewing
itinerary with our trustworthy
local agents.
TOP TIPS?
We know your time is precious
and we will ensure that every
second counts. You will be
greeted and escorted by our local experts
who will be able to
answer any questions you may
have about the property and
life in the area. You might want
to make notes, take photos and
have a local map on hand so you
can pinpoint each property at a
later time.
It's always worthwhile getS
O YOU'VE DECIDED
that the time is right
and you want to finally fulfil
your dream of
owning a property in
France. What are the key decisions that need to be made and
what are the laws and regulations that you
will come across?
WHERE DO I BEGIN?
If you're like me you may well
have grown up with Kirstie &
Phil and "Location, Location,
Location" on your TV. France is
huge and borders eight different countries,
each of which has
a significant effect on local culture,
gastronomy and property
prices. My very first tip therefore
is to "research, research,
research" and decide whereabouts you
would like to buy.
Ask your friends, use the internet and
read the magazines...
check out average temperatures
at www.meteo.fr, average house
prices at www.immoprix.com and
what's currently on the market
TYPE OF PROPERTY?
Draw up a list of "must have's"
BUYING YOUR
FRENCH PROPERTY
BUYING FRENCH PROPERTY LEGGETT MAGAZINE
ˮ
ˮ