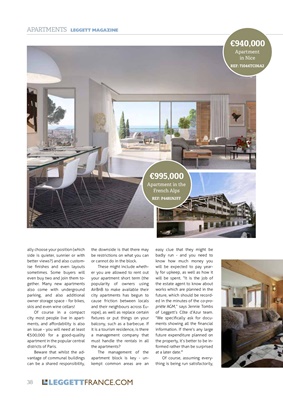 38 LEGGETTFRANCE.COM
38
APARTMENTS LEGGETT MAGAZINE
easy clue that they might be
badly run - and you need to
know how much money you
will be expected to pay yearly for
upkeep, as well as how it
will be spent. "It is the job of
the estate agent to know about
works which are planned in the
future, which should be recorded in the minutes of
the co-propriéte AGM,"
says Jennie Tombs
of Leggett's Côte d'Azur team.
"We specifically ask for documents showing
all the financial
information. If there's any large
future expenditure planned on
the property, it's better to be informed
rather than be surprised
at a later date."
Of course, assuming everything is being run satisfactorily,
ally choose your position (which
side is quieter, sunnier or with
better views?) and also customise finishes
and even layouts
sometimes. Some buyers will
even buy two and join them together.
Many new apartments
also come with underground
parking, and also additional
owner storage space - for bikes,
skis and even wine cellars!
Of course in a compact
city most people live in apartments, and
affordability is also
an issue - you will need at least
€500,000 for a good-quality
apartment in the popular central
districts of Paris.
Beware that whilst the advantage
of communal buildings
can be a shared responsibility,
the downside is that there may
be restrictions on what you can
or cannot do in the block.
These might include whether you
are allowed to rent out
your apartment short term (the
popularity of owners using
AirBnB to make available their
city apartments has begun to
cause friction between locals
and their neighbours across Europe),
as well as replace certain
fixtures or put things on your
balcony, such as a barbecue. If
it is a tourism residence, is there
a management company that
must handle the rentals in all
the apartments?
The management of the
apartment block is key - unkempt
common areas are an
€995,000
Apartment in the
French Alps
REF: P4481NJFF
€940,000
Apartment
in Nice
REF: 71044TC06A2