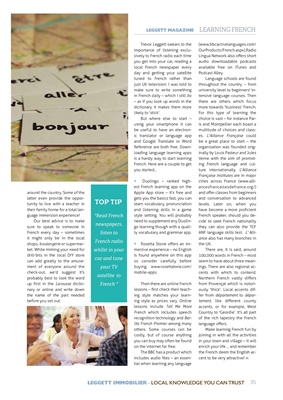 TOP TIP
"Read French
newspapers,
listen to
French radio
whilst in your
car and tune
your TV
satellite to
French "
35
around the country. Some of the
latter even provide the opportunity to
live with a teacher in
their family home for a total language
immersion experience!
Our best advice is to make
sure to speak to someone in
French every day - sometimes
it might only be in the local
shops, boulangerie or supermarket.
While miming your need for
drill-bits in the local DIY store
can add greatly to the amusement of
everyone around the
check-out, we'd suggest it's
probably best to look the word
up first in the Larousse dictionary or online and write down
the name of the part needed
before you set out.
Trevor Leggett swears to the
importance of listening exclusively
to French radio each time
you get into your car, reading a
local French newspaper every
day and getting your satellite
tuned to French rather than
just UK television. I was told to
make sure to write something
in French daily - which I still do
- as if you look up words in the
dictionary it makes them more
likely to 'stick'.
But where else to start -
using your smartphone it can
be useful to have an electronic translator
or language app
and Google Translate or Word
Reference are both free. Downloading language
learning apps
is a handy way to start learning
French. Here are a couple to get
you started…
• Duolingo - ranked highest French
learning app on the
Apple App store - it's free and
gets you the basics fast, you can
learn vocabulary, pronunciation
and listening skills in a game
style setting. You will probably
need to supplement any Duolingo
learning though with a quality vocabulary
and grammar app.
• Rosetta Stone offers an immersive
experience - no English
is found anywhere on this app
so consider carefully before
buying. www.rosettatone.com/
mobile-apps
Then there are online French
lessons - first check their teaching style
matches your learning style as prices
vary. Online
lessons include Tell Me More
French which includes speech
recognition technology and Berlitz French Premier
among many
others. Some courses can be
costly, but of course anything
you can buy may often be found
on the internet for free.
The BBC has a product which
includes audio files - an essential when learning any language
OurProducts/French.aspx).Radio
Lingua Network also offers short
audio downloadable podcasts
available free on iTunes and
Podcast Alley.
Language schools are found
throughout the country - from
university level to beginners' intensive
language courses. Then
there are others which focus
more towards 'business' French.
For this type of learning the
choice is vast - for instance Paris and
Montpellier each boast a
multitude of choices and classes. L'Alliance
Française could
be a great place to start - the
organisation was founded originally by
Louis Pasteur and Jules
Verne with the aim of promoting French
language and culture
internationally. L'Alliance
Française Institutes are in major
cities across France (www.alliancesfrancaisesdefrance.org/)
and offer classes from beginners
and conversation to advanced
levels. Later on, when you
have become a more proficient
French speaker, should you decide to seek French
nationality
they can also provide the TCF
ANF language skills test. L' Alliance
also has many branches in
the UK.
There are, it is said, around
100,000 words in French - most
seem to have about three meanings. There
are also regional accents
with which to contend.
Northern French vastly differs
from Provençal which is notoriously 'thick'. Local accents
differ
from département to département,
like different county
accents, or for example, West
Country to 'Geordie'. It's all part
of the rich tapestry the French
language offers.
Make learning French fun by
joining in with all the activities
in your town and village - it will
enrich your life … and remember
the French deem the English accent
to be very attractive!
LEGGETT IMMOBILIER - LOCAL KNOWLEDGE YOU CAN TRUST
LEGGETT MAGAZINE LEARNING FRENCH