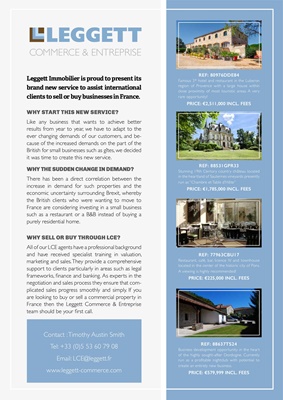 109
Leggett Immobilier is proud to present its
brand new service to assist international
clients to sell or buy businesses in France.
WHY START THIS NEW SERVICE?
Like any business that wants to achieve better
results from year to year, we have to adapt to the
ever changing demands of our customers, and because of the increased demands
on the part of the
British for small businesses such as gîtes, we decided
it was time to create this new service.
WHY THE SUDDEN CHANGE IN DEMAND?
There has been a direct correlation between the
increase in demand for such properties and the
economic uncertainty surrounding Brexit, whereby
the British clients who were wanting to move to
France are considering investing in a small business
such as a restaurant or a B&B instead of buying a
purely residential home.
WHY SELL OR BUY THROUGH LCE?
All of our LCE agents have a professional background
and have received specialist training in valuation,
marketing and sales. They provide a comprehensive
support to clients particularly in areas such as legal
frameworks, finance and banking. As experts in the
negotiation and sales process they ensure that complicated sales
progress smoothly and simply. If you
are looking to buy or sell a commercial property in
France then the Leggett Commerce & Entreprise
team should be your first call.
LEGGETT
COMMERCE & ENTREPRISE
REF: 80976DDE84
Famous 3* hotel and restaurant in the Luberon
region of Provence with a large house within
close proximity of most touristic areas. A very
rare opportunity!
PRICE: €2,511,000 INCL. FEES
REF: 88531GPR33
Stunning 19th Century country château located
in the heartland of Sauternes vineyards presently
run as "Chambre et Table d'Hôte"
PRICE: €1,785,000 INCL. FEES
REF: 77963CBU17
Restaurant, café, bar, licence IV and townhouse
located in the center of the historic city of Pons.
A viewing is highly recommended!
PRICE: €225,000 INCL. FEES
REF: 88637TS24
Business development opportunity in the heart
of the highly sought-after Dordogne. Currently
run as a profitable nightclub with potential to
create an entirely new business.
PRICE: €579,999 INCL. FEES
Contact : Timothy Austin Smith
Tel: +33 (0)5 53 60 79 08
Email: lce@leggett.fr