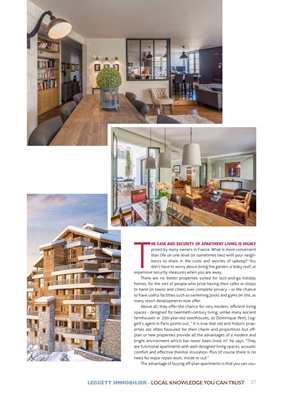 LEGGETT IMMOBILIER - LOCAL KNOWLEDGE YOU CAN TRUST
T
HE EASE AND SECURITY OF APARTMENT LIVING IS HIGHLY
prized by many owners in France. What is more convenient
than life on one level (or sometimes two) with your neighbours
to share in the costs and worries of upkeep? You
don't have to worry about doing the garden, a leaky roof, or
expensive security measures when you are away.
There are no better properties suited for lock-and-go holiday
homes, for the sort of people who prize having their cafes or shops
to hand (in towns and cities) over complete privacy - or the chance
to have useful facilities such as swimming pools and gyms on site, as
many resort developments now offer.
Above all, they offer the chance for very modern, efficient living
spaces - designed for twentieth-century living, unlike many ancient
farmhouses or 200-year-old townhouses, as Dominique Petit, Leggett's
agent in Paris points out. " It is true that old and historic properties are
often favoured for their charm and proportions but offplan or new
properties provide all the advantages of a modern and
bright environment which has never been lived in" he says. "They
are functional apartments with well-designed living spaces, acoustic
comfort and effective thermal insulation. Plus of course there is no
need for major repair work, inside or out."
The advantage of buying off-plan apartments is that you can usu37