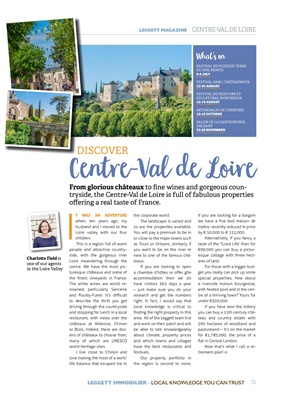 LEGGETT IMMOBILIER - LOCAL KNOWLEDGE YOU CAN TRUST 71
LEGGETT MAGAZINE CENTRE-VAL DE LOIRE
I
T WAS AN ADVENTURE
when, ten years ago, my
husband and I moved to the
Loire valley with our four
children.
This is a region full of warm
people and attractive countryside,
with the gorgeous river
Loire meandering through the
centre. We have the most picturesque
châteaux and some of
the finest vineyards in France.
The white wines are world renowned,
particularly Sancerre
and Pouilly-Fumé. It's difficult
to describe the thrill you get
driving through the countryside
and stopping for lunch in a local
restaurant, with views over the
châteaux at Amboise, Chinon
or Blois. Indeed, there are dozens of
châteaux to choose from,
many of which are UNESCO
world heritage sites.
I live close to Chinon and
love making the most of a work/
life balance that escaped me in
the corporate world.
The landscape is varied and
so are the properties available.
You will pay a premium to be in
or close to the major towns such
as Tours or Orleans, similarly if
you want to be on the river or
next to one of the famous châteaux.
If you are looking to open
a chambre d'hÔtes or offer gÎte
accommodation then we do
have visitors 365 days a year
- just make sure you do your
research and get the numbers
right. In fact, I would say that
local knowledge is critical to
finding the right property in this
area. All of the Leggett team live
and work on their patch and will
be able to talk knowledgeably
about climate, property prices
and which towns and villages
have the best restaurants and
festivals.
Our property portfolio in
the region is second to none.
Centre-Val de Loire
From glorious châteaux to fine wines and gorgeous countryside,
the Centre-Val de Loire is full of fabulous properties
offering a real taste of France.
If you are looking for a bargain
we have a five bed maison de
maÎtre, recently reduced in price
by € 50,000 to € 122,000 .
Alternatively, i f you fancy a
taste of the 'Good Life' then for
€99,000 you can buy a picturesque cottage
with three hectares
of land.
For those with a bigger budget
you really can pick up some
special properties. How about
a riverside maison bourgeoise,
with heated pool and in the centre
of a thriving town? Yours for
under €300,000.
If you have won the lottery
you can buy a 15th century château and country
estate with
200 hectares of woodland and
pastureland - it's on the market
for €1,785,000, the price of a
flat in Central London.
Now that's what I call a retirement
plan!
Charlotte Field is
one of our agents
in the Loire Valley
What's on
FESTIVAL DE MUSIQUE TERRE
DU SON, MONTS
6-8 JULY
FESTIVAL DARC, CHÂTEAUROUX
12-24 AUGUST
FESTIVAL DE PEINTURE ET
SCULPTURES, MONTRÉSOR
12-15 AUGUST
ARTISANALES DE CHARTRES
12-15 OCTOBER
SALON DE LA GASTRONOMIE,
ORLÉANS
23-26 NOVEMBER
DISCOVER