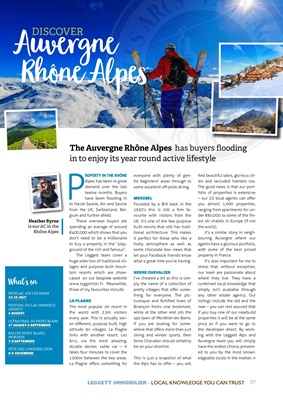 97
LEGGETT IMMOBILIER - LOCAL KNOWLEDGE YOU CAN TRUST
P
ROPERTY IN THE RHÔNE
Alpes has been in great
demand over the last
twelve months. Buyers
have been flooding in
to Haute Savoie, Ain and Savoie
from the UK, Switzerland, Belgium and further afield.
These overseas buyers are
spending an average of around
€400,000 which shows that you
don't need to be a millionaire
to buy a property in the "playground
of the rich and famous".
The Leggett team cover a
huge selection of traditional villages
and purpose built mountain resorts
which are showcased on our bespoke
website
www.leggettski.fr. Meanwhile,
three of my favourites include:
LA PLAGNE
The most popular ski resort in
the world with 2.5m visitors
every year. This is actually seven different,
purpose built, high
altitude ski villages. La Plagne
links with another resort, Les
Arcs, via the most amazing,
double decker, cable car - it
takes four minutes to cover the
1500m between the two areas.
La Plagne offers something for
everyone with plenty of gentle beginners'
areas through to
some excellent off-piste skiing.
MERIBEL
Founded by a Brit back in the
1930's this is still a firm favourite
with visitors from the
UK. It's one of the few purpose
built resorts that still has traditional architecture.
This makes
it perfect for those who like a
lively atmosphere as well as
some chocolate box views that
let your Facebook friends know
what a great time you're having.
SERRE CHEVALIER
I've cheated a bit as this is simply the
name of a collection of
pretty villages that offer something for
everyone. The picturesque
and fortified town of
Briançon forms one bookmark,
while at the other end sits the
spa town of Monêtier-les-Bains.
If you are looking for somewhere
that offers more than just
skiing and winter sports, then
Serre Chevalier should certainly
be on your shortlist.
This is just a snapshot of what
the Alps has to offer - you will
What's on
MUSILAC, AIX LES BAINS
12-15 JULY
FESTIVAL DU LAC D'ANNECY,
ANNECY
4 AUGUST
ULTRA-TRAIL DU MONT BLANC
27 AUGUST-2 SEPTEMBER
RALLYE MONT BLANC,
MORZINE
7-9 SEPTEMBER
FÊTE DES LUMIÈRES, LYON
6-9 DECEMBER
Auvergne
Rhône Alpes
DISCOVER
Heather Byrne
is our AC in the
RhÔne Alpes
find beautiful lakes, glorious cities and secluded hamlets too.
The good news is that our portfolio
of properties is extensive
- our 33 local agents can offer
you almost 1,000 properties,
ranging from apartments for under €60,000
to some of the finest ski chalets in Europe
(if not
the world).
It's a similar story in neighbouring Auvergne
where our
agents have a glorious portfolio,
with some of the best priced
property in France.
It's also important for me to
stress that, without exception,
our team are passionate about
where they live. They have a
combined local knowledge that
simply isn't available through
any other estate agency. Our
listings include the old and the
new - you can rest assured that
if you buy one of our newbuild
properties it will be at the same
price as if you were to go to
the developer direct. By working with the Leggett
Alps and
Auvergne team you will simply
have the widest choice, presented to you
by the most knowledgeable
locals in the market.
The Auvergne RhÔne Alpes has buyers flooding
in to enjoy its year round active lifestyle