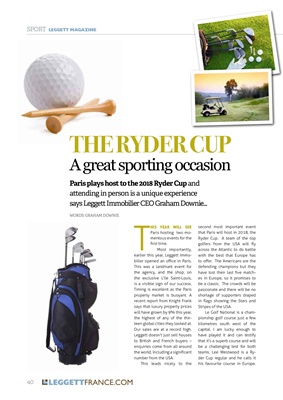 Paris plays host to the 2018 Ryder Cup and
attending in person is a unique experience
says Leggett Immobilier CEO Graham Downie...
WORDS: GRAHAM DOWNIE
THE RYDER CUP
A great sporting occasion
T
HIS YEAR WILL SEE
Paris hosting two momentous events
for the
first time.
Most importantly,
earlier this year, Leggett Immobilier opened
an office in Paris.
This was a landmark event for
the agency, and the shop, on
the exclusive L'Ile Saint-Louis,
is a visible sign of our success.
Timing is excellent as the Paris
property market is buoyant. A
recent report from Knight Frank
says that luxury property prices
will have grown by 9% this year,
the highest of any of the thirteen global cities they
looked at.
Our sales are at a record high.
Leggett doesn't just sell houses
to British and French buyers -
enquiries come from all around
the world, including a significant
number from the USA.
This leads nicely to the second most important event
that Paris will host in 2018, the
Ryder Cup. A team of the top
golfers from the USA will fly
across the Atlantic to do battle
with the best that Europe has
to offer. The Americans are the
defending champions but they
have lost their last five matches in Europe,
so it promises to
be a classic. The crowds will be
passionate and there will be no
shortage of supporters draped
in flags showing the Stars and
Stripes of the USA.
Le Golf National is a championship golf
course just a few
kilometres south west of the
capital. I am lucky enough to
have played it and can testify
that it's a superb course and will
be a challenging test for both
teams. Lee Westwood is a Ryder Cup
regular and he calls it
his favourite course in Europe.
40 LEGGETTFRANCE.COM
40
SPORT LEGGETT MAGAZINE