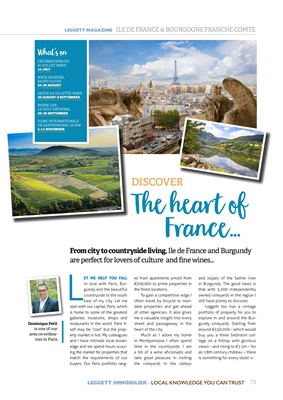 The heart of
France...
L
ET ME HELP YOU FALL
in love with Paris, Burgundy and
the beautiful
countryside to the south
east of my city. Let me
start with our capital, Paris, which
is home to some of the greatest
galleries, museums, shops and
restaurants in the world. Paris itself may
be "cool" but the property market
is hot. My colleagues
and I have intimate local knowledge
and we spend hours scouring the
market for properties that
match the requirements of our
buyers. Our Paris portfolio rangFrom
city to countryside living, Ile de France and Burgundy
are perfect for lovers of culture and fine wines...
LEGGETT MAGAZINE ILE DE FRANCE & BOURGOGNE FRANCHE COMTE
es from apartments priced from
€300,000 to prime properties in
the finest locations.
To gain a competitive edge I
often travel by bicycle to mandate properties
and get ahead
of other agencies. It also gives
me a valuable insight into every
street and passageway in the
heart of the city.
Much as I adore my home
in Montparnasse I often spend
time in the countryside. I am
a bit of a wine aficionado and
take great pleasure in visiting
the vineyards in the valleys
Dominique Petit
is one of our
area co-ordinators
in Paris
and slopes of the Saône river
in Burgundy. The good news is
that with 3,200 independently
owned vineyards in the region I
still have plenty to discover.
Leggett too has a vintage
portfolio of property for you to
explore in and around the Burgundy vineyards.
Starting from
around €150,000 - which would
buy you a three bedroom cottage
on a hilltop with glorious
views - and rising to €1.5m - for
an 18th century château - there
is something for every taste!
DISCOVER
CÉLÉBRATIONS DU
14 JUILLET, PARIS
14 JULY
ROCK EN SEINE,
SAINT-CLOUD
24-26 AUGUST
JAZZ À LA VILLETTE, PARIS
30 AUGUST-9 SEPTEMBER
RYDER CUP,
LE GOLF NATIONAL
28-30 SEPTEMBER
FOIRE INTERNATIONALE
DE GASTRONOMIE, DIJON
1-11 NOVEMBER
What's on
LEGGETT IMMOBILIER - LOCAL KNOWLEDGE YOU CAN TRUST 73