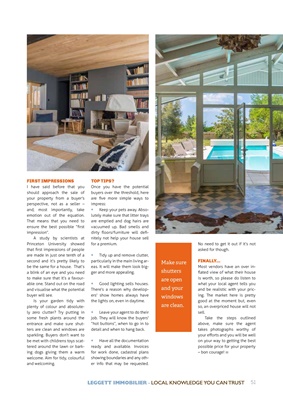 LEGGETT IMMOBILIER - LOCAL KNOWLEDGE YOU CAN TRUST
Make sure
shutters
are open
and your
windows
are clean.
FIRST IMPRESSIONS
I have said before that you
should approach the sale of
your property from a buyer's
perspective, not as a seller -
and, most importantly, take
emotion out of the equation.
That means that you need to
ensure the best possible "first
impression".
A study by scientists at
Princeton University showed
that first impressions of people
are made in just one tenth of a
second and it's pretty likely to
be the same for a house. That's
a blink of an eye and you need
to make sure that it's a favourable one.
Stand out on the road
and visualise what the potential
buyer will see.
Is your garden tidy with
plenty of colour and absolutely zero
clutter? Try putting in
some fresh plants around the
entrance and make sure shutters
are clean and windows are
sparkling. Buyers don't want to
be met with childrens toys scattered
around the lawn or barking dogs
giving them a warm
welcome. Aim for tidy, colourful
and welcoming.
TOP TIPS?
Once you have the potential
buyers over the threshold, here
are five more simple ways to
impress:
• Keep your pets away. Absolutely make
sure that litter trays
are emptied and dog hairs are
vacuumed up. Bad smells and
dirty floors/furniture will definitely not help your
house sell
for a premium.
• Tidy up and remove clutter,
particularly in the main living areas. It will make
them look bigger
and more appealing.
• Good lighting sells houses.
There's a reason why developers'
show homes always have
the lights on, even in daytime.
• Leave your agent to do their
job. They will know the buyers'
"hot buttons", when to go in to
detail and when to hang back.
• Have all the documentation
ready and available. Invoices
for work done, cadastral plans
showing boundaries and any other info
that may be requested.
No need to get it out if it's not
asked for though.
FINALLY...
Most vendors have an over inflated view
of what their house
is worth, so please do listen to
what your local agent tells you
and be realistic with your pricing.
The market here is pretty
good at the moment but, even
so, an overpriced house will not
sell.
Take the steps outlined
above, make sure the agent
takes photographs worthy of
your efforts and you will be well
on your way to getting the best
possible price for your property
- bon courage!
51