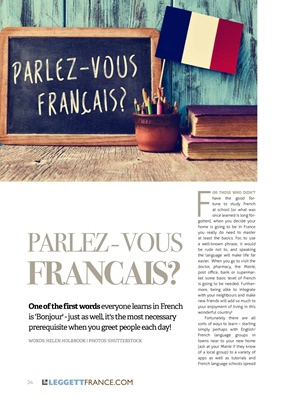 PARLEZ - VOUS
FRANCAIS?
One of the first words everyone learns in French
is 'Bonjour' - just as well, it's the most necessary
prerequisite when you greet people each day!
34
F
OR THOSE WHO DIDN'T
have the good fortune to study French
at school (or what was
once learned is long forgotten),
when you decide your
home is going to be in France
you really do need to master
at least the basics. For, to use
a well-known phrase, it would
be rude not to, and speaking
the language will make life far
easier. When you go to visit the
doctor, pharmacy, the Mairie,
post office, bank or supermarket
some basic level of French
is going to be needed. Furthermore,
being able to integrate
with your neighbours and make
new friends will add so much to
your enjoyment of living in this
wonderful country!
Fortunately there are all
sorts of ways to learn - starting
simply perhaps with English/
French language groups in
towns near to your new home
(ask at your Mairie if they know
of a local group) to a variety of
apps as well as tutorials and
French language schools spread
WORDS: HELEN HOLBROOK | PHOTOS: SHUTTERSTOCK
LEGGETTFRANCE.COM