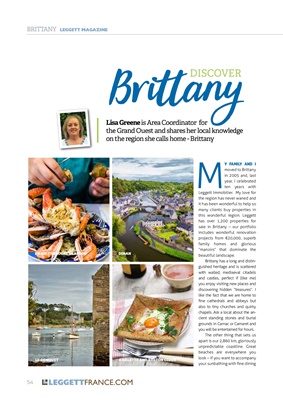 BRITTANY LEGGETT MAGAZINE
54
M
Y FAMILY AND I
moved to Brittany
in 2005 and, last
year, I celebrated
ten years with
Leggett Immobilier. My love for
the region has never waned and
it has been wonderful to help so
many clients buy properties in
this wonderful region. Leggett
has over 1,200 properties for
sale in Brittany - our portfolio
includes wonderful renovation
projects from €20,000, superb
family homes and glorious
"manoirs" that dominate the
beautiful landscape.
Brittany has a long and distinguished heritage
and is scattered
with walled, mediaeval citadels
and castles, perfect if (like me)
you enjoy visiting new places and
discovering hidden "treasures". I
like the fact that we are home to
fine cathedrals and abbeys but
also to tiny churches and quirky
chapels. Ask a local about the ancient standing stones and burial
grounds in Carnac or Camaret and
you will be entertained for hours.
The other thing that sets us
apart is our 2,860 km, gloriously
unpredictable coastline. Great
beaches are everywhere you
look - if you want to accompany
your sunbathing with fine dining
LEGGETTFRANCE.COM
Lisa Greene is Area Coordinator for
the Grand Ouest and shares her local knowledge
on the region she calls home - Brittany
Brittany
A GALETTE AND BRETON CIDER
LE CONQUET
DINAN
ENJOY THE LOCAL SEAFOOD
DISCOVER