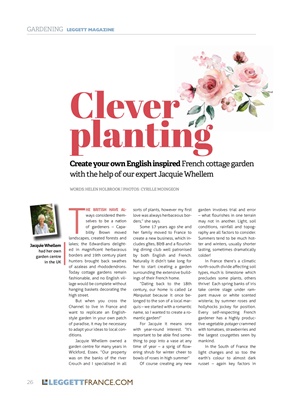 Jacquie Whellem
had her own
garden centre
in the UK
26 LEGGETTFRANCE.COM
T
HE BRITISH HAVE ALways considered
themselves
to be a nation
of gardeners - Capability Brown
moved
landscapes, created forests and
lakes; the Edwardians delighted in
magnificent herbaceous
borders and 19th century plant
hunters brought back swathes
of azaleas and rhododendrons.
Today cottage gardens remain
fashionable, and no English village
would be complete without
hanging baskets decorating the
high street.
But when you cross the
Channel to live in France and
want to replicate an English-
style garden in your own patch
of paradise, it may be necessary
to adapt your ideas to local conditions.
Jacquie Whellem owned a
garden centre for many years in
Wickford, Essex. "Our property
was on the banks of the river
Crouch and I specialised in all
sorts of plants, however my first
love was always herbaceous borders,"
she says.
Some 17 years ago she and
her family moved to France to
create a new business, which includes gîtes,
B&B and a flourishing dining club well
patronised
by both English and French.
Naturally it didn't take long for
her to start creating a garden
surrounding the extensive buildings of
their French home.
"Dating back to the 18th
century, our home is called Le
Marquisat because it once belonged
to the son of a local marquis -
we started with a romantic
name, so I wanted to create a romantic garden!"
For Jacquie it means one
with year-round interest. "It's
important to be able find something to pop into a vase at any
time of year - a sprig of flowering shrub for
winter cheer to
bowls of roses in high summer"
Of course creating any new
garden involves trial and error
- what flourishes in one terrain
may not in another. Light, soil
conditions, rainfall and topography
are all factors to consider.
Summers tend to be much hotter and
winters, usually shorter
lasting, sometimes dramatically
colder!
In France there's a climatic
north-south divide affecting soil
types, much is limestone which
precludes some plants, others
thrive! Each spring banks of iris
take centre stage under rampant mauve
or white scented
wisteria; by summer roses and
hollyhocks jockey for position.
Every self-respecting French
gardener has a highly productive
vegetable potager crammed
with tomatoes, strawberries and
the largest courgettes seen by
mankind.
In the South of France the
light changes and so too the
earth's colour to almost dark
russet - again key factors in
Create your own English inspired French cottage garden
with the help of our expert Jacquie Whellem
Clever
planting
WORDS: HELEN HOLBROOK | PHOTOS: CYRILLE MOINGEON
GARDENING LEGGETT MAGAZINE