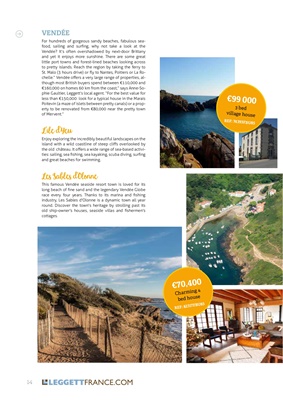 14 LEGGETTFRANCE.COM €1,750,000
VENDÉE
For hundreds of gorgeous sandy beaches, fabulous seafood,
sailing and surfing, why not take a look at the
Vendée? It's often overshadowed by next-door Brittany
and yet it enjoys more sunshine. There are some great
little port towns and forest-lined beaches looking across
to pretty islands. Reach the region by taking the ferry to
St. Malo (3 hours drive) or fly to Nantes, Poitiers or La Rochelle."
Vendée offers a very large range of properties, although most
British buyers spend between €110,000 and
€160,000 on homes 60 km from the coast," says Anne-Sophie Gaultier,
Leggett's local agent. "For the best value for
less than €150,000 look for a typical house in the Marais
Poitevin (a maze of islets between pretty canals) or a property to be renovated
from €80,000 near the pretty town
of Mervent."
L'île d'Yeu
Enjoy exploring the incredibly beautiful landscapes on the
island with a wild coastline of steep cliffs overlooked by
the old château. It offers a wide range of sea-based activities: sailing,
sea fishing, sea kayaking, scuba diving, surfing
and great beaches for swimming.
Les Sables d'Olonne
This famous Vendée seaside resort town is loved for its
long beach of fine sand and the legendary Vendée Globe
race every four years. Thanks to its marina and fishing
industry, Les Sables d'Olonne is a dynamic town all year
round. Discover the town's heritage by strolling past its
old ship-owner's houses, seaside villas and fishermen's
cottages.
€99 000
3 bed
village house
REF: 74393FBU85
€70,400
Charming 4
bed house
REF: 82317FBU85