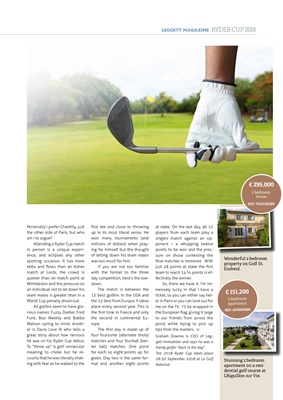 Personally I prefer Chantilly, just
the other side of Paris, but who
am I to argue?
Attending a Ryder Cup match
in person is a unique experience,
and eclipses any other
sporting occasion. It has more
ebbs and flows than an Ashes
match at Lords, the crowd is
quieter than on match point at
Wimbledon and the pressure on
an individual not to let down his
team mates is greater than in a
World Cup penalty shoot-out.
All golfers seem to have glorious names:
Fuzzy Zoeller, Fred
Funk, Boo Weekly and Bubba
Watson spring to mind. Another is Davis
Love III who tells a
great story about how nervous
he was on his Ryder Cup debut.
To "throw up" is golf vernacular
meaning to choke but he recounts
that he was literally shaking with fear
as he walked to the
LEGGETT MAGAZINE RYDER CUP 2018
first tee and close to throwing
up in its most literal sense. He
won many tournaments (and
millions of dollars) when playing for
himself but the thought
of letting down his team mates
was too much for him.
If you are not too familiar
with the format to the three
day competition, here's the lowdown.
The match is between the
12 best golfers in the USA and
the 12 best from Europe. It takes
place every second year. This is
the first time in France and only
the second in continental Europe.
The first day is made up of
four foursome (alternate shots)
matches and four fourball (better ball) matches. One point
for each so eight points up for
grabs. Day two is the same format and
another eight points
at stake. On the last day, all 12
players from each team play a
singles match against an opponent -
a whopping twelve
points to be won and the pressure
on those contesting the
final matches is immense. With
just 28 points at stake the first
team to reach 14 ½ points is effectively
the winner.
So, there we have it. I'm immensely lucky in that I have
a
ticket, so you can either say hello in
Paris or you can look out for
me on the TV. I'll be wrapped in
the European flag, giving it large
to our friends from across the
pond, while trying to pick up
tips from the masters.
Graham Downie is CEO of Leggett Immobilier
and says he was a
handy golfer "back in the day".
The 2018 Ryder Cup takes place
28-30 September 2018 at Le Golf
National
Wonderful 2 bedroom
property on Golf St.
Endreol.
Stunning 2 bedroom
apartment on a residential
golf course at
L'Aiguillon sur Vie.
€ 151,200
2 bedroom
apartment
REF: 62295MB85€ 295,000
2 bedroom
house
REF: 71323CKE83