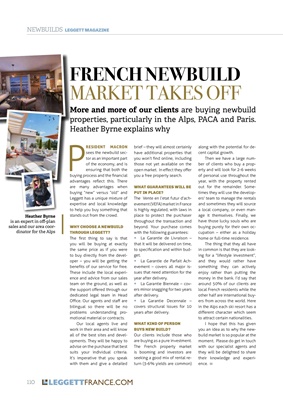 NEWBUILDS LEGGETT MAGAZINE
110110110 LEGGETTFRANCE.COM
along with the potential for decent
capital growth.
Then we have a large number of
clients who buy a property and will look for
2-6 weeks
of personal use throughout the
year, with the property rented
out for the remainder. Sometimes they
will use the developers'
team to manage the rentals
and sometimes they will source
a local company, or even manage
it themselves. Finally, we
have those lucky souls who are
buying purely for their own occupation -
either as a holiday
home or full-time residence.
The thing that they all have
in common is that they are looking for
a "lifestyle investment",
and they would rather have
something they can actively
enjoy rather than putting the
money in the bank. I'd say that
around 50% of our clients are
local French residents while the
other half are international buyers
from across the world. Here
in the Alps each ski resort has a
different character which seem
to attract certain nationalities.
I hope that this has given
you an idea as to why the newbuild market
is so popular at the
moment. Please do get in touch
with our specialist agents and
they will be delighted to share
their knowledge and experience.
P
RESIDENT MACRON
sees the newbuild sector as an important part
of the economy, and is
ensuring that both the
buying process and the financial
advantages reflect this. There
are many advantages when
buying "new" versus "old" and
Leggett has a unique mixture of
expertise and local knowledge
to help you buy something that
stands out from the crowd.
WHY CHOOSE A NEWBUILD
THROUGH LEGGETT?
The first thing to say is that
you will be buying at exactly
the same price as if you were
to buy directly from the developer -
you will be getting the
benefits of our service for free.
These include the local experience
and advice from our sales
team on the ground, as well as
the support offered through our
dedicated legal team in Head
Office. Our agents and staff are
bilingual so there will be no
problems understanding promotional material or contracts.
Our local agents live and
work in their area and will know
all of the best sites and developments. They
will be happy to
advise on the purchase that best
suits your individual criteria.
It's imperative that you speak
with them and give a detailed
brief - they will almost certainly
have additional properties that
you won't find online, including
those not yet available on the
open market. In effect they offer
you a free property search.
WHAT GUARANTEES WILL BE
PUT IN PLACE?
The Vente en l'etat futur d'achevement
(VEFA) market in France
is highly regulated, with laws in
place to protect the purchaser
throughout the transaction and
beyond. Your purchase comes
with the following guarantees:
• La Garantie de Livraison -
that it will be delivered on time,
to specification and within budget.
• La Garantie de Parfait Achevement
- covers all major issues that need attention for
the
year after delivery.
• La Garantie Biennale - covers
minor snagging for two years
after delivery.
• La Garantie Decennale -
covers structural issues for 10
years after delivery.
WHAT KIND OF PERSON
BUYS NEW BUILD?
Our clients include those who
are buying as a pure investment.
The French property market
is booming and investors are
seeking a good mix of rental return (3-6% yields are
common)
More and more of our clients are buying newbuild
properties, particularly in the Alps, PACA and Paris.
Heather Byrne explains why
FRENCH NEWBUILD
MARKET TAKES OFF
Heather Byrne
is an expert in off-plan
sales and our area coordinator
for the Alps