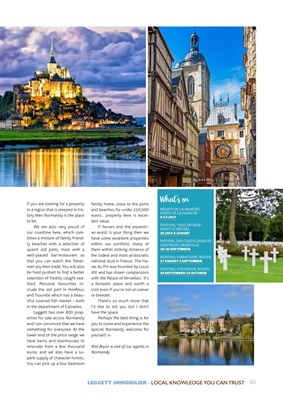 LEGGETT IMMOBILIER - LOCAL KNOWLEDGE YOU CAN TRUST
What's on
RÉGATE DE LA MANCHE,
PORTS DE LA MANCHE
8-13 JULY
FESTIVAL "JAZZ EN BAIE",
MONT ST MICHEL
25 JULY-5 AUGUST
FESTIVAL DES COQUILLAGES ET
CRUSTACÉS, GRANVILLE
29-30 SEPTEMBER
FESTIVAL VIBRATIONS, ROUEN
27 AUGUST-3 SEPTEMBER
FESTIVAL D'HUMOUR, ROUEN
28 SEPTEMBER-19 OCTOBER
65
If you are looking for a property
in a region that is steeped in history then Normandy is the place
to be.
We are also very proud of
our coastline here, which combines a mixture
of family friendly beaches with a selection of
quaint old ports, most with a
well-placed bar/restaurant so
that you can watch the fishermen ply their trade.
You will also
be hard pushed to find a better
selection of freshly caught seafood.
Personal favourites include the
old port in Honfleur,
and Trouville which has a beautiful covered
fish market - both
in the department of Calvados.
Leggett has over 800 properties for
sale across Normandy
and I am convinced that we have
something for everyone. At the
lower end of the price range we
have barns and townhouses to
renovate from a few thousand
euros, and we also have a superb supply
of character homes.
You can pick up a four bedroom
family home, close to the ports
and beaches, for under 250,000
euros… property here is excellent value.
If horses and the equestrian world
is your thing then we
have some excellent properties
within our portfolio, many of
them within striking distance of
the oldest and most aristocratic
national stud in France. The Haras
du Pin was founded by Louis
XIV and has drawn comparisons
with the Palace of Versailles. It's
a fantastic place and worth a
visit even if you're not an owner
or breeder.
There's so much more that
I'd like to tell you but I don't
have the space.
Perhaps the best thing is for
you to come and experience the
special Normandy welcome for
yourself.
Rita Bryan is one of our agents in
Normandy.