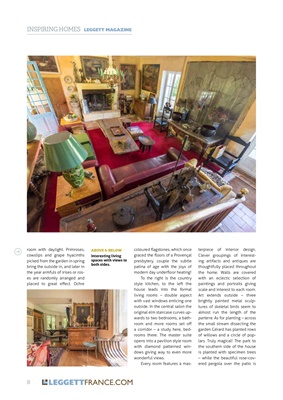 8 LEGGETTFRANCE.COM
INSPIRING HOMES LEGGETT MAGAZINE
ABOVE & BELOW
Interesting living
spaces with views to
both sides.
room with daylight. Primroses,
cowslips and grape hyacinths
picked from the garden in spring
bring the outside in, and later in
the year armfuls of irises or roses are
randomly arranged and
placed to great effect. Ochre
coloured flagstones, which once
graced the floors of a Provençal
presbytery, couple the subtle
patina of age with the joys of
modern day underfloor heating!
To the right is the country
style kitchen, to the left the
house leads into the formal
living rooms - double aspect
with vast windows enticing one
outside. In the central salon the
original elm staircase curves upwards
to two bedrooms, a bathroom
and more rooms set off
a corridor - a study here, bedrooms
there. The master suite
opens into a pavilion style room
with diamond patterned windows
giving way to even more
wonderful views.
Every room features a masterpiece
of interior design.
Clever groupings of interesting artifacts
and antiques are
thoughtfully placed throughout
the home. Walls are covered
with an eclectic selection of
paintings and portraits giving
scale and interest to each room.
Art extends outside - three
brightly painted metal sculptures
of skeletal birds seem to
almost run the length of the
parterre. As for planting - across
the small stream dissecting the
garden Gérard has planted rows
of willows and a circle of poplars.
Truly magical! The park to
the southern side of the house
is planted with specimen trees
- while the beautiful rose-covered
pergola over the patio is