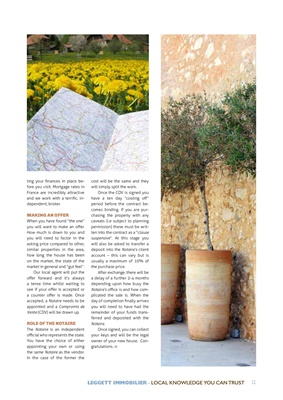 11
LEGGETT IMMOBILIER - LOCAL KNOWLEDGE YOU CAN TRUST
ting your finances in place before
you visit. Mortgage rates in
France are incredibly attractive
and we work with a terrific, independent, broker.
MAKING AN OFFER
When you have found "the one"
you will want to make an offer.
How much is down to you and
you will need to factor in the
asking price compared to other,
similar properties in the area,
how long the house has been
on the market, the state of the
market in general and "gut feel".
Our local agent will put the
offer forward and it's always
a tense time whilst waiting to
see if your offer is accepted or
a counter offer is made. Once
accepted, a Notaire needs to be
appointed and a Compromis de
Vente (CDV) will be drawn up.
ROLE OF THE NOTAIRE
The Notaire is an independent
official who represents the state.
You have the choice of either
appointing your own or using
the same Notaire as the vendor.
In the case of the former the
cost will be the same and they
will simply split the work.
Once the CDV is signed you
have a ten day "cooling off"
period before the contract becomes
binding. If you are purchasing the property
with any
caveats (i.e subject to planning
permission) these must be written into
the contract as a "clause
suspensive". At this stage you
will also be asked to transfer a
deposit into the Notaire's client
account - this can vary but is
usually a maximum of 10% of
the purchase price.
After exchange, there will be
a delay of a further 2-4 months
depending upon how busy the
Notaire's office is and how complicated the
sale is. When the
day of completion finally arrives
you will need to have had the
remainder of your funds transferred
and deposited with the
Notaire.
Once signed, you can collect
your keys and will be the legal
owner of your new house. Congratulations.