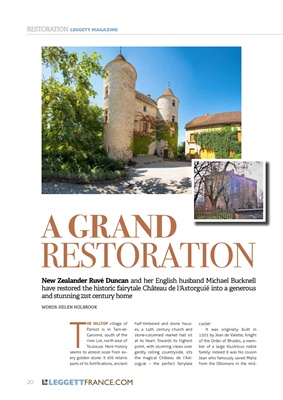 20 LEGGETTFRANCE.COM
T
HE HILLTOP village of
Parisot is in Tarn-etGaronne,
south of the
river Lot, north east of
Toulouse. Here history
seems to almost ooze from every golden
stone: it still retains
parts of its fortifications, ancient
half-timbered and stone houses, a 14th. century
church and
stone-columned market hall sit
at its heart. Towards its highest
point, with stunning views over
gently rolling countryside, sits
the magical Château de l'Astorguié
- the perfect fairytale
castle!
It was originally built in
1501 by Jean de Valette, Knight
of the Order of Rhodes, a member of
a large illustrious noble
family; indeed it was his cousin
Jean who famously saved Malta
from the Ottomans in the mid-
New Zealander Ruvé Duncan and her English husband Michael Bucknell
have restored the historic fairytale Château de l 'Astorguié into a generous
and stunning 21st century home
A GRAND
RESTORATION
WORDS: HELEN HOLBROOK
RESTORATION LEGGETT MAGAZINE