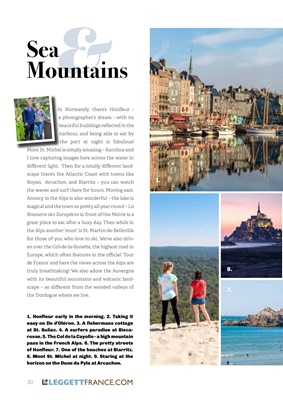 &
30 LEGGETTFRANCE.COM
In Normandy, there's Honfleur -
a photographer's dream - with its
beautiful buildings reflected in the
harbour, and being able to eat by
the port at night is fabulous!
Mont St. Michel is simply amazing - Karolina and
I love capturing images here across the water in
different light. Then for a totally different landscape
there's the Atlantic Coast with towns like
Royan, Arcachon, and Biarritz - you can watch
the waves and surf there for hours. Moving east,
Annecy in the Alps is also wonderful - the lake is
magical and the town so pretty all year round - La
Brasserie des Européens in front of the Mairie is a
great place to eat after a busy day. Then while in
the Alps another 'must' is St. Martin-de-Belleville
for those of you who love to ski. We've also driven over
the Col-de-la-Bonette, the highest road in
Europe, which often features in the official 'Tour
de France' and here the views across the Alps are
truly breathtaking! We also adore the Auvergne
with its beautiful mountains and volcanic landscape
- so different from the wooded valleys of
the Dordogne where we live.
Sea
Mountains
1. Honfleur early in the morning. 2. Taking it
easy on Ile d'Oléron. 3. A fishermans cottage
at St. Suliac. 4. A surfers paradise at Biscarosse. 5.
The Col de la Cayolle - a high mountain
pass in the French Alps. 6. The pretty streets
of Honfleur. 7. One of the beaches at Biarritz.
8. Mont St. Michel at night. 9. Staring at the
horizon on the Dune du Pyla at Arcachon.
1.
8.
7.
9.