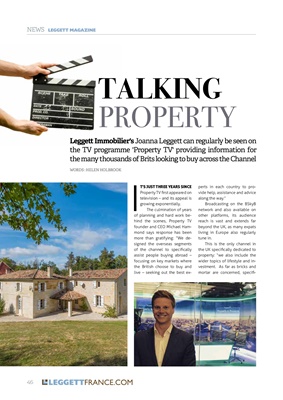 Leggett Immobilier's Joanna Leggett can regularly be seen on
the TV programme 'Property TV' providing information for
the many thousands of Brits looking to buy across the Channel
perts in each country to provide help,
assistance and advice
along the way."
Broadcasting on the BSkyB
network and also available on
other platforms, its audience
reach is vast and extends far
beyond the UK, as many expats
living in Europe also regularly
tune in.
This is the only channel in
the UK specifically dedicated to
property: "we also include the
wider topics of lifestyle and investment.
As far as bricks and
mortar are concerned, specifiI
T'S JUST THREE YEARS SINCE
Property TV first appeared on
television - and its appeal is
growing exponentially.
The culmination of years
of planning and hard work behind the
scenes, Property TV
founder and CEO Michael Hammond says response
has been
more than gratifying: "We designed the overseas
segments
of the channel to specifically
assist people buying abroad -
focusing on key markets where
the British choose to buy and
live - seeking out the best exTALKING
PROPERTY
WORDS : HELEN HOLBROOK
NEWS LEGGETT MAGAZINE
46 LEGGETTFRANCE.COM