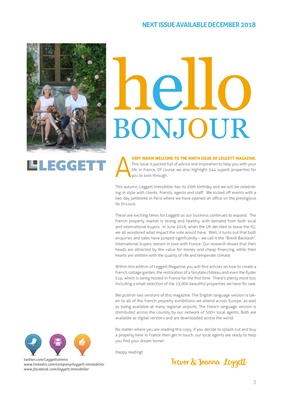 LEGGETTPRESTIGE
3
A
VERY WARM WELCOME TO THE NINTH ISSUE OF LEGGETT MAGAZINE.
This issue is packed full of advice and inspiration to help you with your
life in France. Of course we also highlight 344 superb properties for
you to look through.
This autumn, Leggett Immobilier has its 20th birthday and we will be celebrating in
style with clients, friends, agents and staff. We kicked off events with a
two day jamboree in Paris where we have opened an office on the prestigious
Ile St-Louis.
These are exciting times for Leggett as our business continues to expand. The
French property market is strong and healthy, with demand from both local
and international buyers. In June 2016, when the UK decided to leave the EU,
we all wondered what impact the vote would have. Well, it turns out that both
enquiries and sales have jumped significantly - we call it the "Brexit Backlash".
International buyers remain in love with France. Our research shows that their
heads are attracted by the value for money and cheap financing, while their
hearts are smitten with the quality of life and temperate climate.
Within this edition of Leggett Magazine you will find articles on how to create a
French cottage garden, the restoration of a fairytale château and even the Ryder
Cup, which is being hosted in France for the first time. There's plenty more too,
including a small selection of the 15,000 beautiful properties we have for sale.
We publish two versions of this magazine. The English language version is taken to all of
the French property exhibitions we attend across Europe, as well
as being available at many regional airports. The French language version is
distributed across the country by our network of 500+ local agents. Both are
available as digital versions and are downloaded across the world.
No matter where you are reading this copy, if you decide to splash out and buy
a property here in France then get in touch, our local agents are ready to help
you find your dream home!
Happy reading! Trevor & Joanna Leggett
NEXT ISSUE AVAILABLE DECEMBER 2018
twitter.com/LeggettsImmo
www.linkedin.com/company/leggett-immobilier
www.facebook.com/leggett.immobilier helloBONJOUR