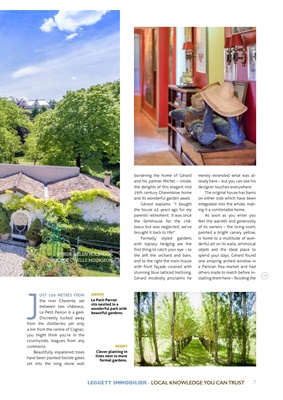 7
J
UST 100 METRES FROM
the river Charente, set
between two châteaux,
Le Petit Perron is a gem.
Discreetly tucked away
from the distilleries yet only
4 km from the centre of Cognac,
you might think you're in the
countryside, leagues from any
commerce.
Beautifully espaliered trees
have been planted beside gates
set into the long stone wall
bordering the home of Gérard
and his partner Michel - inside,
the delights of this elegant mid
19th century Charentaise home
and its wonderful garden await.
Gérard explains: "I bought
the house 45 years ago for my
parents' retirement. It was once
the farmhouse for the châteaux but
was neglected, we've
brought it back to life!"
Formally styled gardens
with topiary hedging are the
first thing to catch your eye - to
the left the orchard and barn,
and to the right the main house
with front façade covered with
stunning blue latticed trellising.
Gérard modestly proclaims he
merely extended what was already
here - but you can see his
designer touches everywhere.
The original house has barns
on either side which have been
integrated into the whole, making it a comfortable
home.
As soon as you enter you
feel the warmth and generosity
of its owners - the living room,
painted a bright canary yellow,
is home to a multitude of wonderful art on its walls, whimsical
objets and the ideal place to
spend your days. Gérard found
one amazing arched window in
a Parisian flea market and had
others made to match before installing them
here - flooding the
ABOVE
Le Petit Perron
sits nestled in a
wonderful park with
beautiful gardens.
RIGHT
Clever planting in
lines next to more
formal gardens.
WORDS: HELEN HOLBROOK
PHOTOS: CYRILLE MOINGEON
LEGGETT IMMOBILIER - LOCAL KNOWLEDGE YOU CAN TRUST