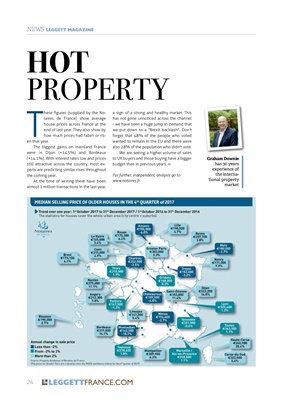 HOT
PROPERTY
T
hese figures (supplied by the Notaires
de France) show average
house prices across France at the
end of last year. They also show by
how much prices had fallen or risen that year.
The biggest gains on mainland France
were in Dijon (+14.5%) and Bordeaux
(+14.1%). With interest rates low and prices
still attractive across the country, most experts are
predicting similar rises throughout
the coming year.
At the time of writing there have been
almost 1 million transactions in the last year,
a sign of a strong and healthy market. This
has not gone unnoticed across the channel
- we have seen a huge jump in demand that
we put down to a "Brexit backlash". Don't
forget that 48% of the people who voted
wanted to remain in the EU and there were
also 28% of the population who didn't vote.
We are seeing a higher volume of sales
to UK buyers and those buying have a bigger
budget than in previous years.
For further, independent, analysis go to
NEWS LEGGETT MAGAZINE
Graham Downie
has 30 years
experience of
the international
property
market
24 LEGGETTFRANCE.COM