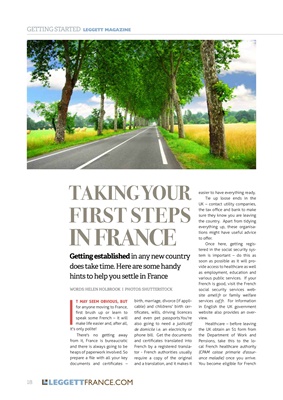 I
T MAY SEEM OBVIOUS, BUT
for anyone moving to France,
first brush up or learn to
speak some French - it will
make life easier and, after all,
it's only polite!
There's no getting away
from it, France is bureaucratic
and there is always going to be
heaps of paperwork involved. So
prepare a file with all your key
documents and certificates -
birth, marriage, divorce (if applicable) and childrens'
birth certificates, wills,
driving licences
and even pet passports.You're
also going to need a justicatif
de domicile i.e. an electricity or
phone bill. Get the documents
and certificates translated into
French by a registered translator -
French authorities usually
require a copy of the original
and a translation, and it makes it
easier to have everything ready.
Tie up loose ends in the
UK - contact utility companies,
the tax office and bank to make
sure they know you are leaving
the country. Apart from tidying
everything up, these organisations might
have useful advice
to offer.
Once here, getting registered
in the social security system is
important - do this as
soon as possible as it will provide access
to healthcare as well
as employment, education and
various public services. If your
French is good, visit the French
social security services website ameli.fr
or family welfare
services caf.fr. For information
in English the UK government
website also provides an overview.
Healthcare - before leaving
the UK obtain an S1 form from
the Department of Work and
Pensions, take this to the local
French healthcare authority
(CPAM caisse primarie d'assurance maladie)
once you arrive.
You become eligible for French
TAKING YOUR
FIRST STEPS
IN FRANCE Getting established in any new country
does take time. Here are some handy
hints to help you settle in France
WORDS: HELEN HOLBROOK I PHOTOS: SHUTTERSTOCK
18 LEGGETTFRANCE.COM
GETTING STARTED LEGGETT MAGAZINE