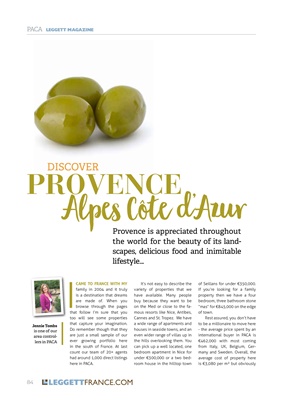 84 LEGGETTFRANCE.COM
DISCOVER
Jennie Tombs
is one of our
area controllers
in PACA
PACA LEGGETT MAGAZINE
I
CAME TO FRANCE WITH MY
family in 2004 and it truly
is a destination that dreams
are made of. When you
browse through the pages
that follow I'm sure that you
too will see some properties
that capture your imagination.
Do remember though that they
are just a small sample of our
ever growing portfolio here
in the south of France. At last
count our team of 20+ agents
had around 1,000 direct listings
here in PACA.
Provence is appreciated throughout
the world for the beauty of its landscapes,
delicious food and inimitable
lifestyle...
PROVENCE
Alpes Côte d'Azur
It's not easy to describe the
variety of properties that we
have available. Many people
buy because they want to be
on the Med or close to the famous resorts
like Nice, Antibes,
Cannes and St. Tropez. We have
a wide range of apartments and
houses in seaside towns, and an
even wider range of villas up in
the hills overlooking them. You
can pick up a well located, one
bedroom apartment in Nice for
under €300,000 or a two bedroom
house in the hilltop town
of Seillans for under €350,000.
If you're looking for a family
property then we have a four
bedroom, three bathroom stone
"mas" for €845,000 on the edge
of town.
Rest assured, you don't have
to be a millionaire to move here
- the average price spent by an
international buyer in PACA is
€462,000 with most coming
from Italy, UK, Belgium, Germany and Sweden.
Overall, the
average cost of property here
is €3,080 per m² but obviously