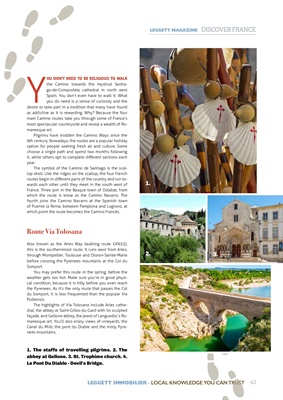 LEGGETT IMMOBILIER - LOCAL KNOWLEDGE YOU CAN TRUST 43
Y
OU DON'T NEED TO BE RELIGIOUS TO WALK
the Camino towards the mystical Santiago-de-Compostela
cathedral in north west
Spain. You don't even have to walk it. What
you do need is a sense of curiosity and the
desire to take part in a tradition that many have found
as addictive as it is rewarding. Why? Because the four
main Camino routes take you through some of France's
most spectacular countryside and reveal a wealth of Romanesque art.
Pilgrims have trodden the Camino Ways since the
9th century. Nowadays, the routes are a popular holiday
option for people seeking fresh air and culture. Some
choose a single path and spend two months following
it, while others opt to complete different sections each
year.
The symbol of the Camino de Santiago is the scallop shell. Like
the ridges on the scallop, the four French
routes begin in different parts of the country and run towards
each other until they meet in the south west of
France. Three join in the Basque town of Ostabat, from
which the route is know as the Camino Navarro. The
fourth joins the Camino Navarro at the Spanish town
of Puente la Reina, between Pamplona and Logrono, at
which point the route becomes the Camino Francés.
Route Via Tolosana
Also known as the Arles Way (walking route GR653),
this is the southernmost route. It runs west from Arles,
through Montpellier, Toulouse and Oloron-Sainte-Marie
before crossing the Pyrenees mountains at the Col du
Somport.
You may prefer this route in the spring, before the
weather gets too hot. Make sure you're in good physical condition,
because it is hilly before you even reach
the Pyrenees. As it's the only route that passes the Col
du Somport, it is less frequented than the popular Via
Podiensis.
The highlights of Via Tolosana include Arles cathedral,
the abbey at Saint-Gilles-du-Gard with its sculpted
façade, and Gellone abbey, the jewel of Languedoc's Romanesque art.
You'll also enjoy views of vineyards, the
Canal du Midi, the pont du Diable and the misty Pyrenees mountains.
LEGGETT MAGAZINE DISCOVER FRANCE
1. The staffs of travelling pilgrims. 2. The
abbey at Gellone. 3. St. Trophime church. 4.
Le Pont Du Diable - Devil's Bridge.
1.
2. 3.
4.
4.