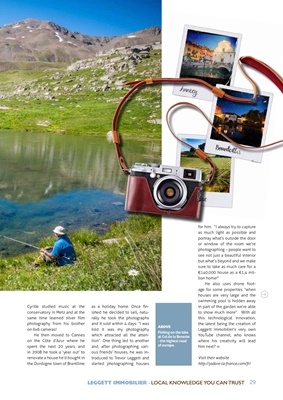 ABOVE
Fishing on the lake
at Col de la Bonette
- the highest road
of europe.
2929
Cyrille studied music at the
conservatory in Metz and at the
same time learned silver film
photography from his brother
on 6x6 cameras!
He then moved to Cannes
on the Côte d'Azur where he
spent the next 20 years, and
in 2008 he took a 'year out' to
renovate a house he'd bought in
the Dordogne town of Brantôme
as a holiday home. Once finished he decided to sell, naturally
he took the photographs
and it sold within 4 days: "I was
told it was my photography
which attracted all the attention".
One thing led to another
and, after photographing various friends'
houses, he was introduced
to Trevor Leggett and
started photographing houses
for him. "I always try to capture
as much light as possible and
portray what's outside the door
or window of the room we're
photographing - people want to
see not just a beautiful interior
but what's beyond and we make
sure to take as much care for a
€140,000 house as a €1,4 million home!"
He also uses drone footage
for some properties "when
houses are very large and the
swimming pool is hidden away
in part of the garden we're able
to show much more". With all
this technological innovation,
the latest being the creation of
Leggett Immobilier's very own
YouTube channel, who knows
where his creativity will lead
him next?
Visit their website
http://jadore-la-france.com/fr/
LEGGETT IMMOBILIER - LOCAL KNOWLEDGE YOU CAN TRUST