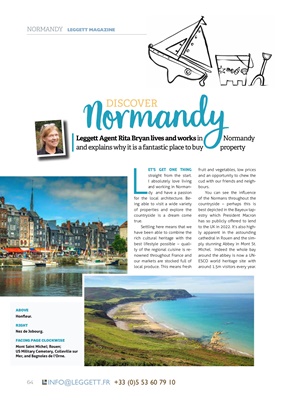 NORMANDY LEGGETT MAGAZINE
DISCOVER
64
L
ET'S GET ONE THING
straight from the start.
I absolutely love living
and working in Normandy and have
a passion
for the local architecture. Being able to visit a wide variety
of properties and explore the
countryside is a dream come
true.
Settling here means that we
have been able to combine the
rich cultural heritage with the
best lifestyle possible - quality of
the regional cuisine is renowned
throughout France and
our markets are stocked full of
local produce. This means fresh
Leggett Agent Rita Bryan lives and works in Normandy
and explains why it is a fantastic place to buy property
ABOVE
Honfleur.
RIGHT
Nez de Jobourg.
FACING PAGE CLOCKWISE
Mont Saint Michel; Rouen;
US Military Cemetery, Colleville sur
Mer, and Bagnoles de l'Orne. Normandy
fruit and vegetables, low prices
and an opportunity to chew the
cud with our friends and neighbours.
You can see the influence
of the Normans throughout the
countryside - perhaps this is
best depicted in the Bayeux tapestry which
President Macron
has so publicly offered to lend
to the UK in 2022. It's also highly apparent
in the astounding
cathedral in Rouen and the simply stunning
Abbey in Mont St.
Michel. Indeed the whole bay
around the abbey is now a UNESCO
world heritage site with
around 1.5m visitors every year.
info@leggett.fr +33 (0)5 53 60 79 10